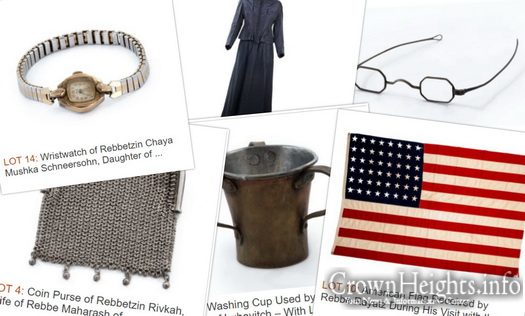 Large Lot Of Historical Chabad Items Up For Auction Questioned As Fakes
by CrownHeights.info
A washing cup allegedly used by the Rebbe Rashab, a coin purse from Rebbetzin Rivkah, and an American flag allegedly received by the Rebbe Rayatz on his visit with the President of the United States at the White House in 1930.
All these items and many more are presently up for auction at the Kedem Auction House and are being questioned as as to their authenticity.
According to the lot, each item was in the possession of Mrs. Chana Gurary, who allegedly gifted them to a man by the name of Shaul Shimon Deutsch in 1989. Each lot comes with an authenticating letter, written in English, and allegedly signed by Mrs. Gurary in Hebrew.
While it might be potentially possible that these items are real, those who have studied chabad history and historical artifacts claim otherwise.
"Every Item for sale in this auction from Shimmy Deutsch is a fake," one person who asked not to be named told CrownHeights.info. "They are a figment of his imagination."
The questions of the authenticity of these items stem not only from the unlikelihood of Deutsch actually having received such items from Mrs. Gurary, or that she even had such items, but also from the "authenticating" documents, which appear written by Deutsch himself and "signed" by the Mrs. Gurary in the same pencil.
A call to the Library of Agudas Chassidei Chabad was answered by Rabbi Berel Levine, the head librarian and world-renowned scholar in Chabad History. He refused to comment on the entire auction episode of fake chabad historical items or the authenticity of this particular auction.
Many such lots and items auctioned in the past have claimed to be from the Chabad Rebbes, with almost all ultimately deemed to be fake.
In one situation, the auction house claimed to have had a Kiddush cup from the Rebbe which was "verified" by Rabbi Yehuda Krinsky. Rabbi Krinsky negated the claim in a letter saying that the Rebbe never had such a Kiddush cup.