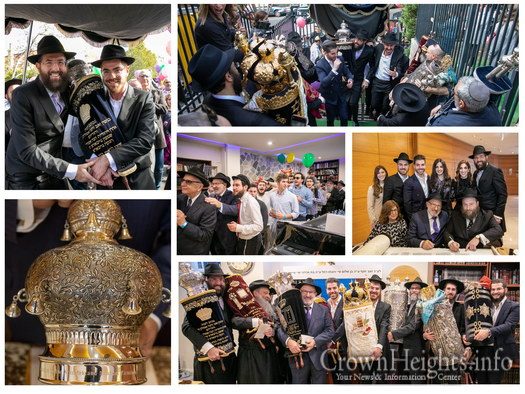 With immense Chayus and energy, the Sydney Jewish Community marked a historic milestone as they welcomed a brand New Sefer Torah dedicated in honour of Benny and Chanie Amzalak by their children, Moishe, Tova, Mendy, Leor and Rochy, as well as in the merit of their grandparents Reb Aron and Judy Amzalak, Shimon Neubort and Rivka Neubort A"H to The Tzemach Tzedek Community Centre. The Sefer Torah was dedicated on a special day as it marked the 50th birthday of Benny Amzalak, a pillar of The Sydney Community.
The day began with the completion of the final letters at Central Synagogue by Melbourne Sofer, Rabbi Eli Gutnick. A special letter was written for the safety of our Soldiers and brothers in Eretz Yisroel. The celebration continued with over 600 people marching and parading throughout the streets of Bondi, creating a massive Kiddush Hashem, giving Kovid Le'Torah and showing off JEWISH PRIDE.
The parade included music by Yehoshua and Yehuda Niasoff, a dancing Torah and balloons. The community marched to Tzemach Tzedek Community Centre where all the Sifrei Torah from the three shules (Nusach Ari, Sefard, Ashkenaz) on the campus came out to welcome and greet the new Sefer Torah, followed by lively Hakafos with food, drinks and lebedik dancing. President, Rabbi Yehuda Spielman honoured Rabbi Perlow, Rov of Tzemach Tzedek with the 1st Hakafos.
A children's program was held, including a rally with Rabbi Straiton, Torah Foil Art, and their own Hakafos with the new Sefer Torah. The children received a special edition of the replica coin minted especially for Lag B'Omer 5751, as well as material from the Mantel.
The Siyum Sefer Torah was an uplifting event for the entire community.