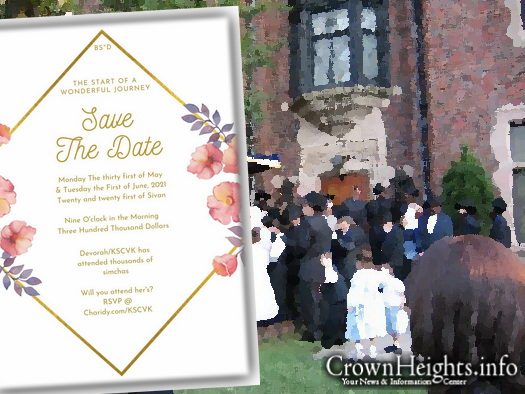 LIVE NOW: KSCVK $300k in 36 hours!
Devorah Benjamin and her phenomenal organization Karen Simchas Chosson V'Kallah are launching a critical fundraiser to help 50 young couples get married with honor and simcha.
KSCVK is requesting your presence at this vital event, which kicks off
TODAY AT 9AM EST!!!
We're raising $300k in 36 hours!
Today your donation is tripled, thanks to our generous matchers. That's right: your gift is matched 3x, so your donation of $100 becomes $300 towards impacting the lives of young couples!
Devorah is already preparing the weddings of 50 new couples. This campaign is crucial – without these funds, Devorah can't bring those weddings to life.
There's truly nothing like your wedding day; couples in need should not be left to feel as if they have nothing for their wedding day. Together, let's partner with Devorah in her incredible work and help ensure that each young bride and groom feels honored and joyful on the day that launches them into their new lives together.
It's all or nothing, and these brides and grooms rely upon KSCVK to pull through for them.
KSCVK relies upon your generosity and your engagement!
YOU'RE INVITED!
WILL YOU ATTEND?
Here's how you can help:
Give! Visit charidy.com/KSCVK – your contribution is greatly appreciated!
Share! Send texts, WhatsApp messages, emails, and more to your contacts to let them know about our campaign. We need their support, and your network can make all the difference! (Did we mention each donation is tripled?!) Don't forget to include the campaign link: charidy.com/KSCVK