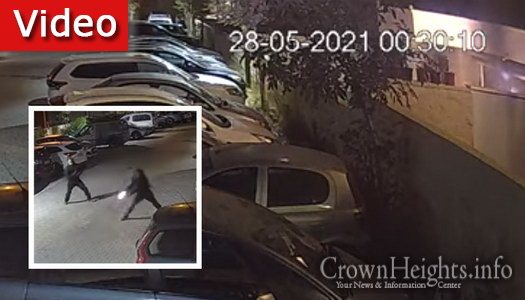 Arrest Made After Chabad Home Firebombed in Lod
by CrownHeights.info
A Chabad home in the mixed Jewish/Arab city of Lod was firebombed Thursday night, and the perpetrator has been arrested.
The firebombing took place at approximately 1:00am at an apartment in the Sha'ar Ha'ir neighborhood of Lod, with the family asleep at the time of the attack.
Surveillance video of the attack shows as two males stood in the parking area of the apartment complex, lobbing at least two firebombs over an outside wall. The video shows as the flames quickly ignited.
"I came home after a wedding and five minutes later, Molotov cocktails were thrown at our building," a resident was reported as saying. "In an open nes, right when it happened my neighbor returned with fire extinguishers to distribute to every home in the neighborhood. He came right when the fire broke out and was able to extinguish it."
The neighbor had been returning with fire extinguishers donated by the central crisis operations center to Chabad shomrim in the area.
No one was injured in the attack.
On Saturday, police announced that they had arrested one of the perpetrators in the attack.