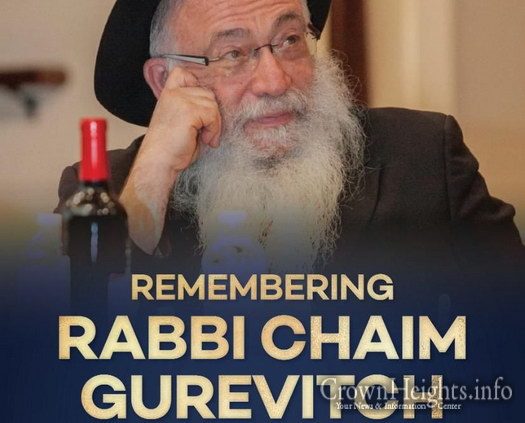 Sweeping Campaign Launched at Shloshim of Rabbi Chaim Gurevitch OBM
Earlier today, over 600 family and friends of Rabbi Chaim Gurevitch, a"h, gathered virtually to mark his Shloshim with a memorial tribute event. Beautiful and moving words of inspiration were shared by many Shluchim, friends and relatives, in the spirit of 'Vhachai Yiten El Libo'.
At the conclusion of the event one of his sons, Rabbi Mendy Gurevitch of Argentina, announced the launch of a sweeping Matzah campaign in his memory. He shared the following story:
A wealthy man from a non-Chabad Chassidic community had the opportunity to see the Rebbe, sometime close to Pesach, and offered a large amount of money to support "a big project". The Rebbe told him that this time of year Chabadniks in Israel are reaching out to neighbors, co-workers, fellow Israelis of all backgrounds to share with them Shmurah Matzah for the Pesach Seder. This can be quite a costly endeavor. The man wasn't thrilled. He was thinking more along the lines of a new big Jewish center, not a fleeting Matzah campaign. But the Rebbe insisted, saying: "If you are asking me what I think is a big project, I consider this to be a big project."
Rabbi Gurevitch energetically dedicated his life to the Rebbe's Shlichus and Mitzvah campaigns, but his unique passion was certainly for Mivtzah Matzah. He would leave no stone unturned, ensuring that everyone in his global circle of acquaintances had Shmurah Matzah for the Pesach Seder. It is so painful, yet at the same time, so meaningful that his tragic and untimely passing came about in the midst of the very act of Matzah distribution.
This campaign was created to further expand his dream of leaving no stone unturned to ensure that every single Jew have Shmurah Matzah for Pesach. By joining forces with the Rebbe's army of Shluchim, this initiative will connect many more Jews to this precious Mitzvah.
Please join family and friends in honoring his great legacy by going to: www.ChaimGurevitchLegacy.com