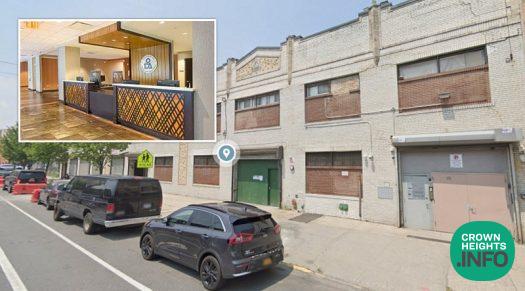 Photo: Google Street View of New Crown Heights location with Insert image from another ODA location.
Major Jewish Health Network, ODA Health, Coming Soon To Crown Heights
by CrownHeights.info
It's great news, at the same time not such great news, for Crown Heights.
The ODA Health Network, a major Frum health network, with large offices in Williamsburg and the Catskills, has leased a location in Crown Heights, and is nearing completion on its renovations.
It's really great news for the community, as the local doctors offices have been faceing increased hardship over lower reimbursement rates and face the looming threat of closing their doors.
The location of the new network will be a 16,200 square foot medical office on East New York Ave between Troy and Schenectady Ave. The new facility will provide adult and pediatric medicine, as well as future plans to include other specialties such as OBGYN and mental health.
As a jumpstart to the new health center, DR. Eli Rosen's Pediatrics' office has announced its plans to merge with the ODA. The news was announced in a letter to the community, where they write that the decision was made to "better serve our ever-growing patient population and continue to provide them with quality medical care well into the future."
With the opening of the new health location, Crown Heights residents can expect to find more available appointments and shorter wait times.
At the same time, it's not such great news, as it heralds the end of the "concierge" medical care that the Crown Heights Jewish community has enjoyed for years.
The ODA location would be staffed primarily by Physician Assistants or Nurse Practitioners, meaning that a person would rarely, if ever, see an actual Medical Doctor. There would also be no guarantee that you would see the same provider you saw the last time you visited, providing for less of a personal experience.
Since the beginning of "Western" medicine, people have found and remained with their physician, an individual Medical Doctor that they trusted their medical care to, in some cases throughout their lives. Initially, it was a very profitable enterprise to be a physician, having consistent and well paying patients would mean a comfortable, if busy, life.
Yet with the inception of Health insurance, that balance began to wobble, as insurance companies began to negotiate rates and shrink reimbursements as much as possible. To make up for the decreased payments, Doctors began to spend less time with their patients, as seeing more patients meant more reimbursements. Soon, that also became impractical, forcing many doctors to hire less trained, and less costly medical professionals such as Physician Assistants and Nurse Practitioners to do their work for them.
Ultimately, with the passage of Obamacare, the end became preordained.
With reimbursement rates so low, being in business became a burden, and many doctors began to leave their practices entirely. Entire medical offices became staffed by Physician Assistants or Nurse Practitioners, nearly all simply salaried workers who do their jobs until the end of their shifts.
A scare in May of 2019 sent medical providers and Jewish families alike scrambling to find a solution after the United HealthCare Community Plan threw out most Jewish medical practices. Ultimately, most people were forced to change their medical insurances to continue receiving care.
In the Jewish community, the doctors held on longer than most, but that too is now nearing its' end.
With the ODA's move into the Crown Heights Jewish community, Jewish run Health Care is again on stable footing. Yet with the gain, also comes a loss.