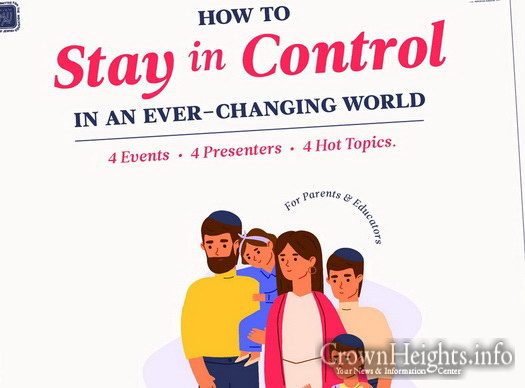 For the next four Tuesdays, Operation Survival, a department of the NCFJE, will present a lecture series for parents and educators addressing hot topics in the area of teen mental health.
Each lecture in the series titled, "How to Stay in Control in an Ever Changing World," will be presented by a renowned expert in the field and introduced by a Chabad community member involved with providing community support in that area.
The lectures will be hosted at 8:30pm on the following days April 13th, April 20th. April 27th, and May 4th, and can be viewed via Zoom, or through tuning in on CrownHeights.info.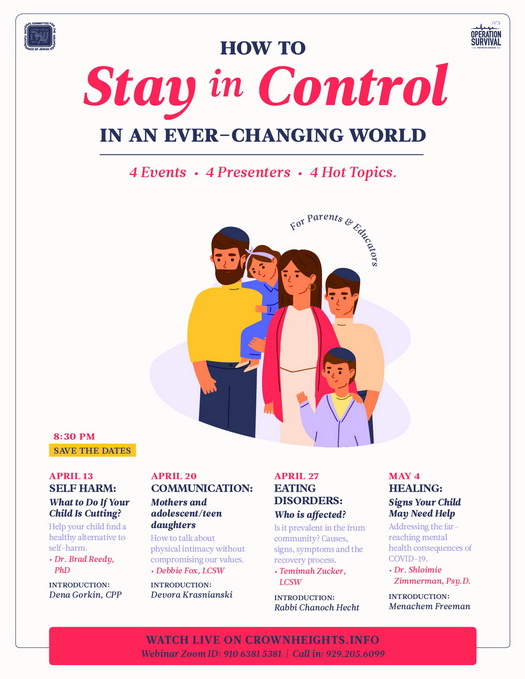 Link to join Webinar
https://zoom.us/j/91063815381
April 13th
Self Harm: What to Do If Your Child Is Cutting? Help your child find a healthy alternative to self-harm.
Presented by: Dr. Brad Reedy, nationally renowned expert on parenting teens, and drug prevention, and the author of "The Journey of the Heroic Parent".
Introductory remarks: Dena Gorkin, Director of community education at Operation Survival and principal of Bnos Chomesh Academy
April 20th
Communication: How mothers can talk to their adolescent/teen daughter about physical intimacy. Holding these important conversations without compromising values
Presented by: Debbie Fox, Founder and creator of the internationally recognized Safety Kid program
Introductory remarks: Devora Krasnianski, Founder of the Adai Ad Institute, an organization that offers tools and mindsets to help couples build and maintain a healthy marriage
April 27th
Eating Disorders: Who is affected? Is it prevalent in the frum community? Causes, signs, symptoms and the recovery process.
Presented by: Temimah Zucker, LCSW, a social worker who specializes in eating disorders. After recovering from her own struggle, she immersed herself in the field. She is currently a national speaker, and a prolific writer, on the topics of eating disorders and body image.
Introductory remarks; Rabbi Hanoch Hecht, Director of Camp Emunah, and the author of A Kabbalah of Food.
May 4th
Healing: Signs Your Child May Need Help. Addressing the far-reaching mental health consequences of COVID-19
Presented by: Dr Shloimie Zimmerman, Psy.D., a licensed clinical psychologist and Chairman of the Clinical Advisory Board for Magen New York.
Introductory remarks: Menachem Freeman, longtime Hatzolah member.