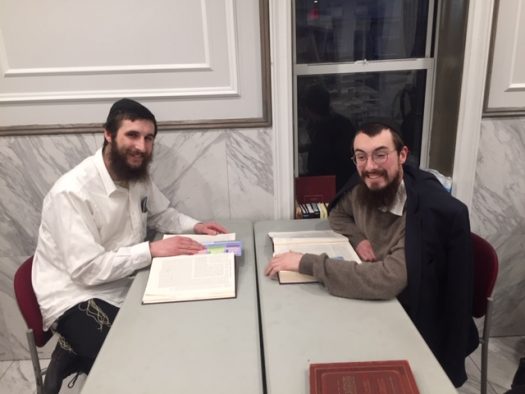 In their spare time, Hadar Hatorah students are preparing for Friday's outreach activities. Part of those preparations is writing and editing of the weekly newsletter.
Thanks to COVID originally.
While at home, in Vermont last spring, locked down and with nowhere to go, Velvel Fishman started a miftzoim route in his rural town, delivering challahs and candles to local jewish families before Shabbos. Once he included a dvar Torah printout in his weekly distribution.
Slowly he began putting together more weekly divrei Torah, drawing from Chabad.org. and other sources. In the summer, Velvel attended Hadar Hatorah's program in the Catskills. He continued putting together more weekly divrei Torah. When the yeshiva returned to Crown Heights after the summer, the newsletter was expanded and began printing in color. The editorial staff now actively included other bochrim, including Jonathan Stebbins and yeshiva shaliach Mendel Rosenbluh. Other bochrim in the yeshiva have become regular contributors. The rest is history.
To subscribe virtually to this publication, contact email Velvel at jfishmanvt@gmail.com. Please share with your friends and family!
For more information about Hadar Hatorah, go to hadarhatorah.org or call 718-735-0250. To support Hadar Hatorah, please participate in Hadar Hatorah's yearly Purim Raffle by going to hadarhatorah.org/raffle.
To Download: Click Here
"Newsletter
– Google Docs"]