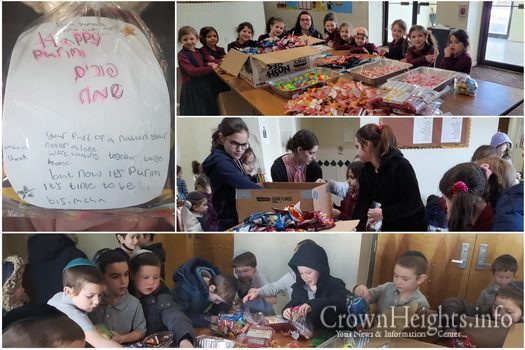 The students of Cheder Menachem of kingston PA, packed over 200 Mishloach Manos, to being sent to chai Lifeline. They will be distributed this purim to many children that face health challenges to bring them the Purim joy.
The idea originated from Mrs Yafa Goldberg, teacher of Pre1A girls. She was looking for ways to teach her students in a tangible way, that purim is not all about getting and giving Mishloach Manos to family and friends. But also to people you've never met and are less fortunate. She mentioning it to another teacher who loved the idea and wanted to do the same for her class. Before long every single class in the boys and girls division packed Mishloach Manos and wrote a personal card to each recipient that they have not met and will probably never will.
As Chassidim this is what Purim and Yidishkeit is all about, says Rabbi Yoel Chazan – Principal of the Cheder, at a very young age we need to educate our children to give of themselves for others and better the world around us..
To help Cheder Menachem continue thriving and educating the next generations of Yidishe Kinderlach, please make a donation to their annual fundraiser. Please enable them to continue their holy work, and prepering the world for Moshiach now!
Please donate at Charidy.com/kingston