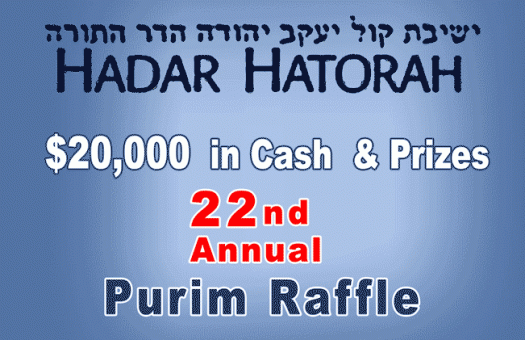 Early Bird Special Going On Now For Hadar Hatorah Purim Raffle
Hadar Hatorah's Annual Purim Raffle is a golden opportunity to support Hadar Hatorah, win fabulous prizes and receive free gifts!
Today, we are offering an EARLY BIRD SPECIAL! Until midnight tonight, you will receive DOUBLE TICKETS!
Go to https://www.hadarhatorah.org/raffle/ now!
Yeshivas Kol Yaakov Yehudah Hadar Hatorah's annual Purim Raffle owes its humble origins to Schabse Gordon, of blessed memory. When we were putting together the first Raffle, twenty-two years ago, Schabse stepped forward and, without any fanfare, let us know that he would be happy to donate the Purim megillah, which was then the grand prize of two prizes. He was awed by the seriousness and dedication of our yeshiva students, men who came from nonreligious backgrounds, who put aside their secular pursuits to pursue a full-fledged Jewish education.
Hadar Hatorah was founded almost sixty years ago by Rabbi Yisroel Jacobson obm. It is the very first baalei-teshuvah yeshiva in the world. Thousands of men have studied at Hadar Hatorah over the years, settling all over the world and becoming prominent members of their communities.