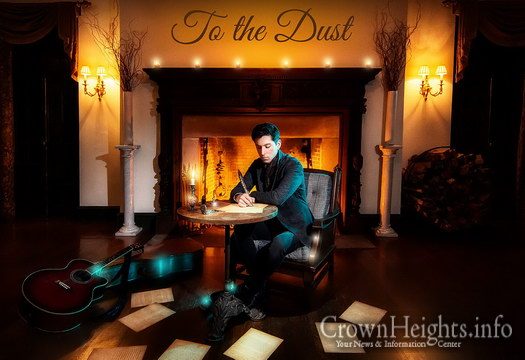 Singer/Songwriter Duvy Burston, 18, of Orange County, NY released his third single this week. "To the Dust" is a powerful yet sensitive song which explores the challenge of struggling with negative thoughts and feelings. The lyrics are passionate and relatable, offering the important message that one should "throw away" their negative feelings and leave them "to the dust," thus leading to a better day and mindset.
The song was inspired from the mystical text of the "Tanya," a book of Kabbalistic teachings written by Rabbi Schneur Zalmon of Liadi, in the late-eighteenth century. "(One's job is to) distract his mind entirely from them and to push them (negative feelings) away with both hands" (Tanya, Chapter 27). "I know it's hard to do but I know I'll find the truth" is one of the themes in the uplifting chorus.
Duvy released this song in response to the present pandemic, when new challenges have led to many battling difficult circumstances. "My hope is for the song to inspire others to feel empowered to rise above negative thoughts and emotions," says Duvy.
Duvy is currently studying for smicha and learning at Achei Temimim in Crown Heights. He enjoys sharing his music at various venues and local Chabad Houses, including his family's – Chabad of Orange County NY, directed by Rabbi Pesach and Chana Burston, where Duvy recently performed at a Chanukah Drive-In Menorah lighting as well as at a local hospital for frontline workers. Recently Duvy flew to The Fort Riley Army Base in Kansas to bring Chanukah joy to soldiers with several concerts.
Presently Duvy is working on producing several more original songs, including an uplifting piece entitled "Believe."
"To the Dust" can be found all major streaming platforms using the link https://songwhip.com/duvy-burston/to-the-dust
Duvy can be contacted at Duvyburston@gmail.com