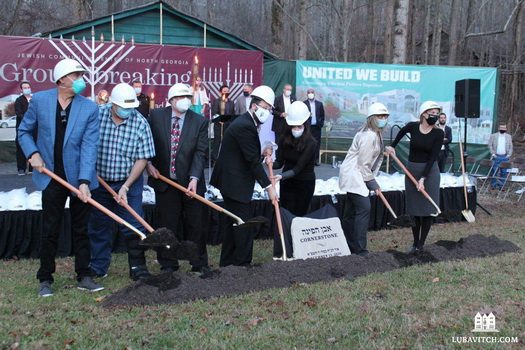 by Ashira Weiss – Lubavitch.com
Earlier this month, the Jewish community in Forsyth County, Georgia, laid the cornerstone for the first Jewish establishment in an area where it once would have been inconceivable. "I remember watching live demonstrations of the KKK in this spot in the eighties," says Forsyth resident Stu Cohen. "When I came to Georgia after hiding from the Nazis for two years in a cave in Poland, there were signs that said 'No Ni***s, No Jews,' so you can imagine what this means to me," says another resident Hershel Greenblatt.
Five hundred people attended the socially-distanced event on the ten-acre property that Chabad of Forsyth, Dawson, and Lumpkin Counties recently acquired, with hundreds more joining virtually over Zoom and Facebook Live. Rabbi Levi and Chaish Mentz established the community in 2016. They estimate there are around three thousand Jews in Northern Georgia, but say many friends of the Jewish community also came to the event to show their support. "This is not just a celebration for the Jewish community; it's a celebration of the values we all hold dear—coming together in unity and tolerance, regardless of our backgrounds, to build a better and brighter future," Rabbi Mentz says.
The Jewish Community Center will include a preschool, Hebrew School, playground, mikvah, Judaica store, kosher eatery, sanctuary, daily chapel, hotel suites, and social hall. The Mentzes also have plans to build an aquatic center, sports fields for Camp Gan Israel, and Noah's Ark,' a community-service center dedicated to perpetuating the values embodied in the Noahide laws.
Congregation Beth Israel—a full-service synagogue established by Chabad in 2016, which counts over one hundred families in its membership—currently operates from a house on the property, which will be demolished and rebuilt for the purpose.
The ceremony began as community member Liza Klahr and her two children placed soil around the building's cornerstone. "The suggestion here is twofold," says Rabbi Mentz. "First, the soil connects us to the Holy Land, the heart of our nation, and the home to which we will one day return. Second, the soil reminds us that even as we yearn for that day, we have to create an 'Israel' wherever we are, and that is what we are doing here in Northern Georgia."
As it was the fourth evening of Chanukah, nine delegates were called up to assemble a human menorah, delivering a few words before lighting a torch. They included a therapist who has helped hundreds struggling with depression since the onset of COVID, a doctor on the frontlines battling the disease in Georgia, and District 2 Commissioner Dennis Brown, who recently retired as a colonel from the Georgia National Guard. The menorah was completed by a young girl who attends the JUDA Chabad Hebrew School.
Rabbi Mentz thanked the building committee which has so far raised $2.7 million of the $4.7 million needed to construct the Jewish Community Center. (A lead donation of $1.75 million was made possible by Mr. Jacques and Evelyne Preis.) He then invited the crowd to don masks, gloves, and hard hats and participate in digging the beginnings of the center's foundation. Hundreds of people filled out notes to be placed in a time capsule that will be buried on the property to be dug up in the year 2120. "As we build today, I am now proud to call myself a Jew, and I hope you will be the same," one note read. Chaish says the notes were particularly poignant, reflecting the community's recognition of this milestone: "At a time when people are called upon to express the one enduring message they would like to impart to their great-grandchildren, you see the really dig deep and it gives a glimpse into their highest ideals."
When the Mentzes first arrived in Forsyth County, every Jew they met was sure they were the only Jew around, such was the lack of Jewish infrastructure and community. But the growth of the last four years, the couple says, is not due to their efforts alone. "We are blessed to have a community in which everyone feels tremendous ownership and responsibility," says Rabbi Mentz. "And with such commitment and participation, we can collectively, quickly achieve anything we put our mind to as we build our vibrant Jewish future."