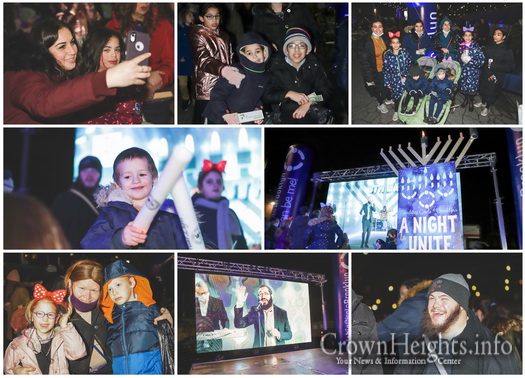 On the first night of Chanukah, Friendship Circle of Brooklyn gathered at the parking lot at Beis Rivkah's Crown St location for an epic outdoor Chanukah party! Tables, with tablecloths hand painted by Rosie Benabou, were piled high with doughnuts, latkes, and a specialty hot apple cider bar. Additional tables sported fun light-up headbands, glasses, and necklaces. Another table towards the far end of the space held bags filled with hundreds of toys, personally and carefully packaged and labelled by name.
As FC families arrived, the jazzy sounds of Shpilkes Klezmer band playing familiar Chanukah tunes greeted them. After picking up their Chanukah treats and goodies, children and parents alike watched in amazement as a trick roper and fire juggler gave strolling performances.
Rabbi Berel Majesky, director of Friendship Circle of Brooklyn, introduced Yehuda Reichman and Boruch Schneur Chein to the stage. They lit the Menorah and sang a beautiful rendition of Haneiros Halalu. Then, the screen behind the stage lit up, and 8th day virtually joined the Chanukah party! The virtual concert had everyone stomping and clapping to the beat of an awesome Chanukah medley, followed by "Miracle of Light," "Inner Flame," and "Celebrate." Some children even took their dancing to the stage to show off their moves!
To make sure that not a single family was left out, FC set up a live YouTube premiere of the 8th Day concert. Families who had to celebrate Chanukah at home were able to dance along with the rest of the Friendship Circle family.
As the evening ended, families made their way to tables filled with white paper bags filled with toys and gifts. Every single toy had been purchased by the community, for FC's Toy Drive. On their way out, each child received a crisp dollar bill for Chanukah gelt. Everyone left with a feeling of warmth that could not be experienced anywhere else.
Friendship Circle of Brooklyn extends special thanks to: Rochel Karp, Ruta Cohen, Tzvi Gewirtz, Rosie Gurkov, Rosie Benabou, Lulu Feldman, Rabbi Sholom Goldstein and Mrs. Esther Edelman of Beis Rivkah, Benz's, Chanie Greenbaum, Sossie Lazarus, Bassie Chaskind, Rochel Swued, Devorah Leah Lipchik, Altie Spielman, Moussia Wilhelm, Chaya Deitsch, and all the FC presidents and volunteers!
Photos by Andrea Scrivanich and Rebecca Howard