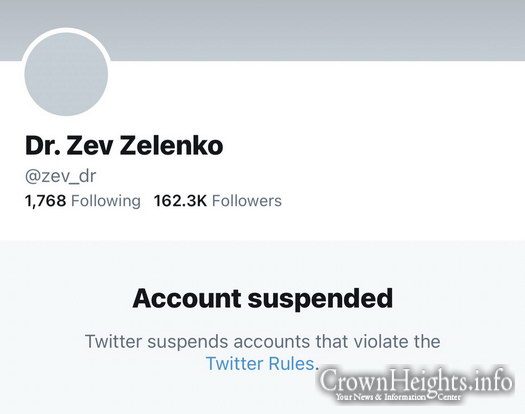 by CrownHeights.info
Twitter has again flexed its censorship muscles by suspending the account of Dr. Vladimir Zelenko, naming the reason as a violation of Platform Manipulation and Spam.
Zelenko has been at the forefront of combating the politicization of the COVID-19 pandemic, and the acclaimed innovator of the Zeleno protocol that successfully treated millions in the early stages of the pandemic.
In recent days, Zelenko published a video warning people of the newly discovered strain of COVID-19, reported to be over 70% more contagious than the first strain. In it, he noted that his protocol is expected to be effective against the new strain and noted that it is unknown if the vaccine would work against the new strain.
The Association of American Physicians and Surgeons posted a condemnation against the suspension of Zelenko's Twitter account, writing "@Twitter suspends Dr. Zelenko, @zev_dr. It is shameful to silence this hero who is tirelessly working to save lives. Pres. @realDonaldTrump please consider Dr. Zelenko for a Medal of Freedom."
At the time of the suspension, Zelenko had over 162,000 followers.
.@Twitter suspends Dr. Zelenko, @zev_dr. It is shameful to silence this hero who is tirelessly working to save lives. Pres. @realDonaldTrump please consider Dr. Zelenko for a Medal of Freedom. pic.twitter.com/G9TXnKR6W8

— AssocAmerPhys&Surg (@AAPSonline) December 23, 2020