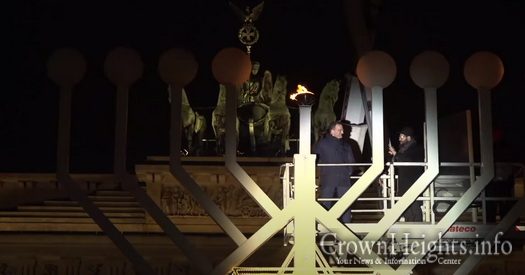 Over 20,000 people watched the lighting of the first Hanukkah light at the Brandenburg Gate live on the evening of December 10. To be able to bring community members together on Hanukkah despite the pandemic, Chabad Berlin came up with something very special: It simply brought Europe's largest Hanukkia directly into living rooms via Facebook and YouTube.
This year's event was dedicated to all the healthcare professionals and nurses who are in the front line fighting the pandemic. For this reason, Federal Minister of Health Jens Spahn lit the first light together with Rabbi Yehuda Teichtal, Rabbi of the Jewish Community of Berlin and Chairman of Chabad Berlin. Earlier, the torches were lit jointly by the Governing Mayor of Berlin, Michael Müller, the Federal Leader of Alliance 90/the Greens, Robert Habeck and H.E. the Ambassador of Israel in Germany Jeremy Issacharoff.
"Hanukkah at the Brandenburg Gate is a symbol that light is stronger than darkness" said Rabbi Yehuda Teichtal, not doubting for a second that the event would be a complete success even without an on-site audience.
Coverage of Hanukkah at Brandenburg Gate 2020 in national and international daily press, radio and TV shows that a vibrant Judaism in Germany is of great interest.