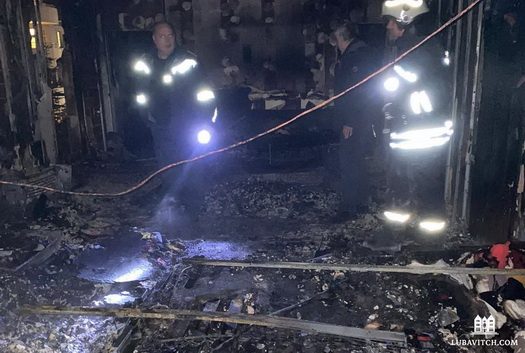 A Saturday night fire sparked by an electric short, left the home of the city's Chabad representatives and their ten children a charred skeleton.
Fortunately, Rabbi Yossi and Tami Salomon and their children were at the Rohr Chabad Center where they were celebrating Shabbat and the Chabad holiday of 19 Kislev with the city's Jewish community, when the fire erupted, quickly consuming their home with all its contents.
The Salomons put down roots in Sofia twenty years ago, where they have since built a thriving, dynamic Jewish experience for the city's Jews. Now, left with nothing but the clothing they were wearing, the Salomon's are thankful that no one was hurt.
"It is difficult for the children to absorb that we have lost everything material that we own. All the contents of our home are gone. Everything. But we are doing what we can to lift their spirits. We cannot allow this to interfere with the joy we bring to our shlichut," Rabbi Salomon said in a phone conversation with Lubavitch.com.
Salomon expressed gratitude for the outpouring of kindness coming from the local Jewish community. "People have come with food, offering to take the children and help in various ways as we figure out how we will move forward."Rabbi Yossi and Tami Salomon will need to start over. Left without even basic necessities, their friends have launched a campaign to raise funds that will allow them to rebuild and get back on their feet. To contribute, please go to https://www.charidy.com/Help4Sofia.