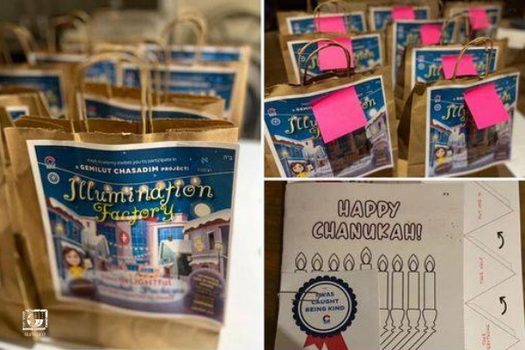 CKids is Empowering Children To Make A Fun And Meaningful Chanukah Party At Home
This Chanukah kids can jump into the director's seat and arrange an epic Chanukah party for their family with the help of the CKids Chanukah Tool Box.
Thousands of Jewish boys and girls will be empowered to lead the way into bringing the light and message of Chanukah into their own homes.
Shluchim from across the world have been placing their orders to make sure everyone in their community will receive one on time.
"Last year we had about 100 people at our public Menorah lighting" says Rabbi Kushi Schusterman from Harford, MD, "This year we are giving out 600 CKids Chanukah Party Tool Boxes to families in Hartford and nearby towns, this will help them celebrate Chanukah in a meaningful way."
Included in the kit are games, guides, recipes, printable materials and everything else to make it a memorable Chanukah Party.
"If there is one thing that the Corona pandemic has taught us, it is that education and Jewish life is rooted in the home," says Rabbi Mendy Kotlarsky, executive director of Merkos 302, "While some may miss the traditional large Chanukah gatherings and parties, relish the time at home with your children, and be proud of the fact that Judaism's future is blossoming beautifully".
In addition to the English version, the CKids Chanukah Party Tool Box is also being translated into Spanish and Portuguese by the Merkos 302 Spanish Department, led by Rabbi Chai Kohan.
The CKids Chanukah Party Tool Box is made possible by our visionary partners: The Yisroel Foundation, and Mordechai Mendel and Shneur Murtagh Cadaner, may they be blessed with much health, success and happiness.