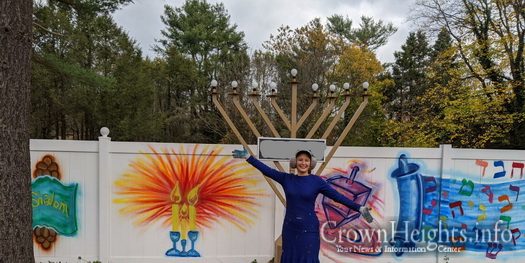 by CrownHeights.info
A Chabad Center in Long Island just got more colorful with a beautiful mural by Sheina Dorn.
Located at a busy cross street, the mural came together to the enthusiastic cheers of local residents.
" I got so many people cheering me on throughout the day giving me warmth and adrenaline to continue painting in the cold windy New York weather," Sheina told CrownHeights.info.
The centerpiece of the mural is an open Sefer Torah filled with letters, which some lucky passers-by were given the opportunity to spray on.
To each side of the Sefer Torah are vibrant colored Mitzvos, each one stimulating Jewish pride in an attractive trendy way.
"I flew in Sunday from Los Angeles and in just one day that busy intersection was transformed to a beautiful Jewish work of art," dorn said. "I'm actually in the middle of a mural in Los Angeles, you'll have to wait and see that beauty."
In the meantime, you can check out Sheina's work on Instagram @sheinasart.
If you want a Mural in your Chabad house contact Sheina on Instagram.