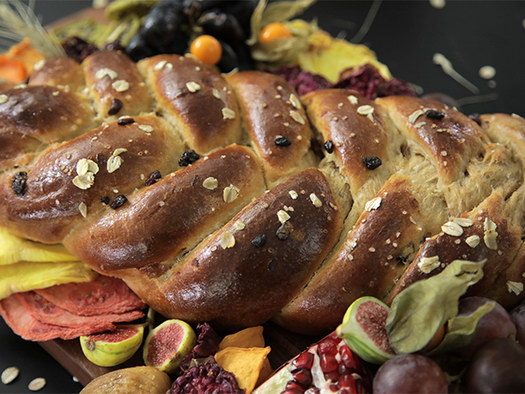 Three Shluchos Share Their Hosting Tips and How They are Handling The Coronavirus
Three Shluchos, Reuvena Grodnitzky, Mushky Raitman, and Sonia Hazan were interviewed by Kosher.com and shared their hosting tips and how they are handling the Coronavirus.
By: Esther Pransky, Lubicom Marketing Staff
As Friday afternoons get shorter and shorter, Shabbat prep takes on an added urgency.
But what if you were shopping and cooking not only for your family but for a hundred guests, too? That requires a whole new level of planning and organization.
To hear the real-life scoop, we interviewed three Chabad shluchot from around the country and the world:
Reuvena Grodnitzky is the author of Oneg: A Culinary Shabbat Experience, a do-it-yourself Shabbat guide. She's lived in Center City, Philadelphia for ten years, serving art and graduate students and young professionals.
Mushky Raitman lives in Danville, CA, serving towns in Northern California for five and a half years.
Sonia Hazan is starting her ninth year in Florence, Italy. The local Jewish community has about 200 families, plus there are many students from abroad, tourists, and American ex-pats.
Here's how they do it:
What did a typical Shabbat look like pre-Corona?
Reuvena: On a typical Friday night, we hosted up to 150 people, all crowded together on long tables in our dining room. Shabbat day was a smaller, invite-only, family-style meal.
Mushky: Once a month, we had a community Shabbat dinner in our home open to everyone. I never knew how many to expect; it would range from 40 to 80 people. The other weeks we would have families over for a smaller, more intimate and traditional Shabbat dinner.
Sonia: My children waited a whole week to host Shabbat guests. They were always very excited to hear who was coming and whether we were expecting more of a local community and friends, or students, Americans, or Israelis.
How do you stay organized and keep on top of shopping, cooking, and cleaning?
Reuvena: I try to plan in advance. On Wednesday, I come up with a menu. I used to spend all day Thursday shopping, but now I've shifted to online shopping, which changed my whole week! It took some time investment, in the beginning, to figure out the system, but now it's fantastic. I place my orders on Wednesday night, and the food comes on Thursday, so I'm ready to cook on Friday. I don't like to cook all week, but I do try to make my challah on Thursday.
Mushky: Staying organized is a constant juggling act! The key for me is planning my menu a full week or two in advance so I can get all the ingredients and make the things that freeze well a few days before. That way, the day of, I only have a few dishes to make and set up/decor to deal with.
My lifesaver is my handwritten planner. I'll make lists in my planner with specific tasks for each day before the event. Food delivery services have become my go-to and save me hours!
The biggest thing I had to learn was accepting help from friends and community members. I'll sometimes have four to five ladies in the kitchen cooking with me, and it's so much more efficient and fun that way! People love being part of the process!  And I make sure to have proper cleaning help after so that my energy is put where it's needed most.
Sonia: I have my daily planner, which is usually found together with me! Anything I need to do or remember is written there.  It took me a few tries until I found the best one for me, but I think we got there!
I've learned to do my main shopping online from the local supermarkets. For kosher items, we source from several vendors in Italy and beyond. I used to think that all food needed to be made within a few hours of dinner time, but I learned that many things are great when made the day before or even a few days before and frozen.
And for cleaning, I realized that as tired as I might be, it will be easier to have everything cleaned the night of the event instead of pushing it off till the next day. And I do have great cleaning help, so I can't complain about that!
What are your dos and don'ts for cooking large quantities of food?
Reuvena: Use recipes that are simple but still tasty and "gourmet-esque," like frozen petit string beans that look elegant, but you don't have to trim and snip. Or make fried rice in the oven with minimal effort by throwing in add-ins. I don't make recipes with a lot of ingredients or steps. Take shortcuts when possible, like using apple pie filling instead of sliced apples, pre-cubed butternut squash, or baby carrots in your chicken soup.
I've also seen over the years that cooking for a larger crowd isn't that different from cooking for a smaller crowd – just make more of each dish.
Mushky: Invest in a few good big-sized pots and pans. Choose recipes that don't involve frying each piece of chicken unless you want to stand by the stove for five hours. People like variety, so make less of each thing and have more options. Two big salads go a long way and take the least amount of time to make. Better to make too much than too little. It's a terrible feeling to run out of food! Worst scenario, your family will have leftovers for the week.
Bake all your desserts a week before so you can focus on the cooking. And make sure you have enough refrigerator/freezer space!
Sonia: I try to keep my menus as simple as possible. Anything that has more than just a few steps to prep, I save for smaller family meals or a time when we have guests just around one table.
How do you keep meals running smoothly with a large crowd?
Reuvena: Running the meal is part of my Friday prep. We have an extensive first course with lots of salads and fish. On Friday, we put everything into serving bowls in the fridge. Then we put the bowls on the tables during davening on Friday night. We're building a new building, and it's going to have a roll-in refrigerator so I can load up the carts on Friday and roll them out to serve on Friday night!
I get volunteers to serve the soup. I bought a ladle that exactly matches my soup bowls so that each bowl can get exactly one ladleful of soup. It saves so much time!
I'll also have people prepping the next course and clearing while there's a Dvar Torah.
Mushky: I almost always serve buffet style, so I can enjoy the dinner with my guests and not spend all the time serving and clearing. It also saves on waste since people will only take what they like. If you can get someone to keep an eye on the buffet table and replenish things as they get used up, that would help a lot!
Lots of people are either gluten-free or vegan, so I make sure to have a lot of fresh salads and a variety of food options, so there's something for everyone. Make sure to have lots of garbage bags handy for the end, so guests can help by clearing tables straight into the garbage.
Sonia: I try to have on the table anything that can sit at room temp before the guests come. For everything else that needs to come out later, I prepare platters beforehand. (Or have the platters stacked up on the counter ready to be filled. My kitchen is pretty small, very Italian-style with very little counter space!) For bigger events, we hire kitchen/serving help, and that is a whole different story!
Do you have any tips for hosting?
Reuvena: Get people in the habit of helping! Never turn down an offer of help; be creative and find a job for anyone who offers. I also learned to be assertive and ask people directly for help!
We often did a theme like Thai Shabbat, Hawaiian Shabbat, Moroccan Shabbat, Beer Shabbat, or Pickle Shabbat. (That week, I added pickles to all my recipes!) The themes were very popular, and we always had more guests those weeks.
Mushky: Don't wear your highest heels and nicest dresses while hosting ;) It's never worth limping the day after and ruining all your best dresses. I'm still learning…
It's not enough for the food to taste good; it should look good too. Even when not using my china, I'll make sure the disposables, tablecloths, and decor have a color scheme so that the whole experience is pleasurable.
Don't forget the kids! Serve your own kids and make sure they have what they need, so they don't feel neglected. Empowering our kids to be part of the team is a win-win for all of us!
Don't be afraid to try out new recipes, but make sure to taste before serving. It's fun for you and the guests when you switch things up, and then you see what's a keeper and what's not.
And keep it healthy! Everyone will appreciate it! :)
Sonia: I serve my little kids lunch/supper/snacks before the guests come, so I know they ate nicely. Then whatever they eat when guests are here is a bonus, and they are better behaved and not hungry. My little ones still take their naps or generally go to sleep at their regular time even when we are hosting. If we are having an event outside the house, I will take a babysitter with me who will help me and watch my children there.
Also, I like to have as much as possible ready beforehand so I can enjoy my time with my guests.
What challenges has Corona brought, and how are you handling them?
Reuvena: We're not doing any indoor hosting or meals; the requirements are too much. We've made Shabbat supply kits with my cookbook, havdalah supplies, a kiddush cup, and a challah cover. We also deliver "Shabbat-to-go" packages of challah and chicken soup. We're still trying to connect.
We've also done some small in-person, outdoor get-togethers that are by invite only.
Mushky: We've had to get creative to find ways to keep the community together while staying physically distant. We're doing Shabbat and holiday packages instead of group dinners. We do group get-togethers only outdoors or virtually. I've enjoyed the more individualized time with people, like home visits or walks.
Because of everyone's different comfort levels, we will be offering in-person and virtual options for events moving forward.
Sonia: A big part of our work was meeting and hosting people, which obviously needed to be adjusted. We had to be creative (like the rest of the world!!) and find other ways to remind friends around Tuscany and beyond that someone is thinking about them!
Now our meals are much more family-oriented with occasional guests around one table and only when allowed. They are very different but very special. You learn how to adjust to every situation and make it unique!
Thank you, Reuvena, Mushky, and Sonia, for being so forthcoming and real.
Taking help when we need it. . . preparing in advance. . . adapting to our new reality. . .
Though most of us are hosting more modest-sized meals, we can all gain from your tips, tricks, and can-do attitude.
This article was originally published on Kosher.com, and has been reprinted with permission.