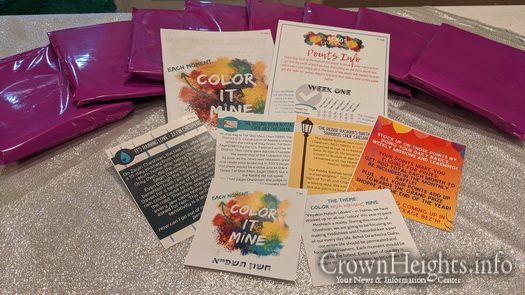 This Tishrei, 15 girls joined a program called "Fill Your Palette." "Fill Your Palette" was a program of Achos Hatmimim Online. Each girl opened her mailbox one day before Rosh Hashana to see a beautiful packet with her name on it, mailed directly to her house, with everything she would need to have an inspiring and Chassidus-infused month. It was just the first of a series of inspirational packages that these lucky girls will be getting this year IYH.
Achos Hatmimim is a program that is active in Lubavitch high schools all over, encouraging girls to grow in their Yiddishkeit and Chassidishkeit. A typical "Achos" program will feature farbrengens, school programs, checklists, incentives, and more!
Lubavitcher girls in non-Lubavitch institutions, and Lubavitcher girls who have not experienced the power of Achos Hatmimim – this is for you! Step into Achos Online:
The full Achos experience – Farbrengens, checklists, Chavrusas, Hachanos, inspiration for Chassidishe Yomim Tovim, brought to you – the Lubavitch high school girl, wherever you may be!
This year's theme is Color It Mine- זה קלי ואנוהו (This is my Hashem, and I will glorify Him).
We just wrapped up the Tishrei Program, which was called "Fill Your Palette"- where we got to fill up our inspiration and pack it for the year through doing missions, earning points, reading Tishrei with the Rebbe insights, and learning from a great learning packet!
But, Tishrei is just the beginning of an awesome year ahead! With the help of modern technology, Achos Online brings the inspiration of Achos to girls all over the globe with video-conference Farbrengens, emails for Chassidishe Yomim Tovim, a Google Form to upload the monthly total points from checklists, an all-new website with resources, a WhatsApp group to stay connected and Shabbos Mevorchim reminders and raffles.
We also know how exciting it is to get an actual envelope in the mail (not just virtually), so Achos Online sends out monthly packages with checklists, learning, and a peek into the special days of the month!
Are you a Lubavitcher girl in grades 7-12, who attends a school that doesn't offer the Achos Hatmimim program? Then this is for you!
Sign up today on our new website www.achosonline.com! You can sign up for a month at a time, or for the full year. For any questions, email us at achosonline@gmail.com or call\text us at 310-905-2150.
Read the testimonials below for first-hand reports about the effects of Achos Hatmimim Online:
"Here's a nachas note for you: I wanted to let you know that when I do chassidishe actions (Negel Vaaser by my bed, Rebbe video) I have in mind that I am part of Achos, and I must strive to become a better me. As I check my inbox, I smile because your emails are a chassidic boost and are a delight to receive :)
IYH my friend and I will coordinate the program for the Chabad girls in my school next year. It's the job (honor!) of the Chabad seniors. I will use my inspiration from Achos and we will hopefully have a great BYC (Bais Yaakov Chabad) program next year! : )"
"…I really like it when we get the Sichos to learn… I really enjoyed it when we had conference calls and Farbrengens! I think you are doing a great job keeping us posted about all the chassidishe yomim tovim…."
"If you are a Lubavitcher high school girl trying to grow B'ruchniyus (like me), check the Online Achos program out…"
www.achosonline.com – achosonline@gmail.com – 310-905-2150