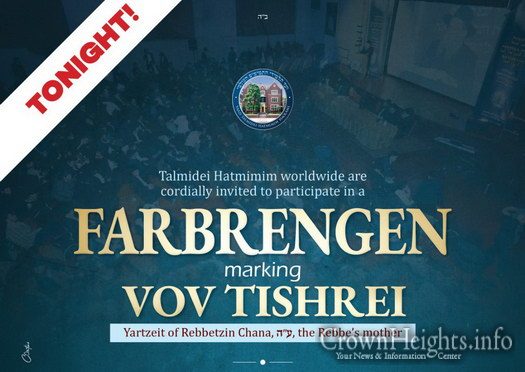 In honor of the Yartzeit of the Rebbe's mother Rebbetzin Chana, Vaad Hatmimim will be holding a live Farbrengen taking place tonight from around the world.
"Unfortunately, unlike most years when there are many Bochurim from all over the world in NY for Tishrei, and due to Covid-19 related precautions, a in-person Farbrengen is not possible for a large crowd" said Rabbi Tzvi Altein, Director of the Vaad Hatmimim. "But BH we will be able to commemorate this dear day to the Rebbe, together, from all around the world".
The Farbrengen will be streaming live at 9:30 this evening by Chabad.org on www.chabad.org/Vaad
The Farbrengen will be addressed by:
Rabbi Yosef Chaim Kantor, Bangkok Thailand
Rabbi Leibel Shapiro, Miami FL
Rabbi Mendel Raskin, Montreal CA
Rabbi Yossi Klyne, Baltimore MD
And will be Emceed by Rabbi Chaim Stern, Miami FL
A highlight of the Farbrengen will be a presentation of never – before seen footage of the Rebbe of the events of Erev Yom Kippur 5741, exactly 40 years ago to date.
The video is part of the Levi Freidin Collection and narrated by him as well, a special thanks to Jewish Educational Media for providing the presentation.