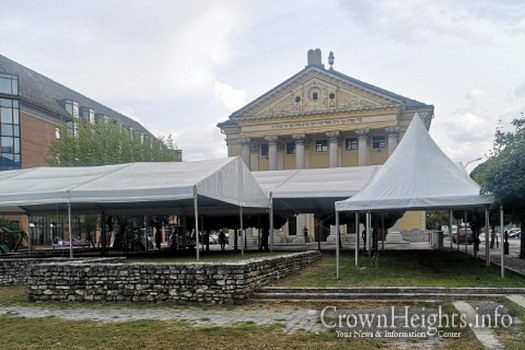 The Jewish community of Budapest is making preparations for the Rosh Hashanah celebrations that will take place on September 18-20 amid a surging number of COVID-19 cases in the country in recent days. Communal holiday prayers and gatherings will be limited to around 20 designated outdoor locations throughout the capital in order to contain the spread of the virus among the events' participants. As numerous other Jewish communities around the world, members of EMIH (Association of Jewish Communities of Hungary) led by Rabbi Shlomo Koves in Budapest were compelled to adapt their holiday events this year to the new reality created by a global pandemic which has had a profound impact on people's lives and habits.
Hungary sees a surge in COVID-19 cases during past weeks as daily record have reached 916 on Saturday (12.09). The government closed borders to foreigners from Sept 1, with certain exceptions, re-introducing border protection measures in force during the first wave of the epidemic. The Budapest municipality tightened regulations on mask-wearing in public places and introduced fines for violators and establishment owners.
Under the communal plan, every synagogue is required to move its services, including communal prayers and kiddushim, to adjacent outdoor areas. A giant tent that will host communal prayers and holiday meals has been pitched in front of the Óbuda Synagogue, one of the largest in the city. Some congregations had to resort to creative solutions due to the lack of a large enough space to accommodate all the worshipers. Thus, members of the ZSILIP congregation on the banks of the Danube river have rented a boat moored in front of the synagogue in order to be able to hold all of its planned activities, while in Budavár communal prayers were moved to a garden at a nearby hotel. All members of the community will have their temperature checked at the entrance to the events and will have their meals while standing and keeping distance from other family groups.
"We are approaching the holidays of Tishrei – a very special time of the Jewish year," Rabbi Shlomo Koves said. "We have decided to proceed with all the holiday celebrations as planned, while taking all the necessary health and safety precautions to protect our community. This time, we will celebrate the holiday in a rather special way and will wish each other that the New Year sees the end to the coronavirus pandemic."
EMIH, an affiliate of the Chabad movement, promotes Jewish values in the country and invests generously in education and culture. As part of this mission, it operates educational institutions and is actively involved in charitable activities, running numerous social, cultural, and educational programs nationwide. Around 100,000 Jews currently reside in Hungary, making it the third largest Jewish community in Europe. Ninety-five percent of the country's Jewish population lives in Budapest. Jews account for approximately 5 percent of the city's residents, which makes Budapest Europe's "most Jewish" capital.