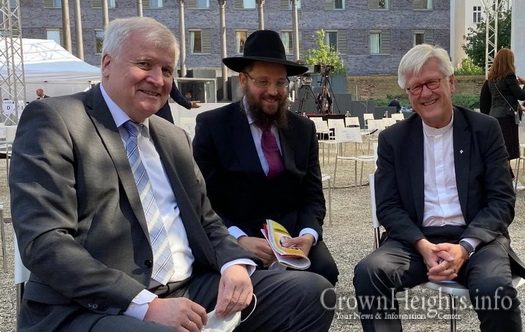 Germany's Minister of the Interior Horst Seehofer met with Yehuda Teichtal, Rabbi of Berlin and Dr. Heinrich Bedford-Strohm, Chairman of the Council of the Protestant Church in Germany. In view of the coming Rosh Hashanah the discussion focused on the upcoming High Holidays and how the Corona crisis will affect not only Judaism, but also the practice of religion in general.
Mr. Seehofer recalled Rabbi Teichtal's last visit to his ministry and looked forward to visiting Rabbi Teichtal and the Pears Jewish Campus. The importance of building Jewish life in Germany and what the construction of the Jewish Campus represented could not be emphasized enough. It is an important and huge step to continue to support and strengthen the Jewish community.
In this context, the Minister of the Interior also spoke of the refugee crisis and the challenges it posed for Jewish life in Germany.
He thanked Rabbi Teichtal for his engagement to be active in strengthening the Jewish awareness and identity and wished happy holidays and a meaningful Yom Kippur.