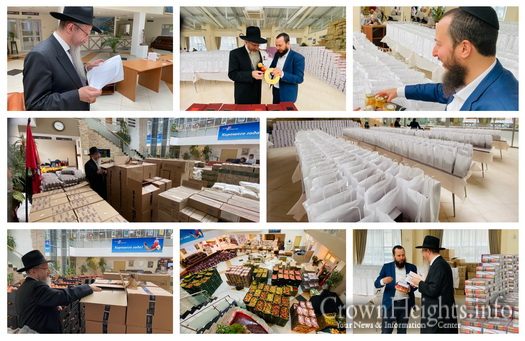 Alongside the spiritual preparations in hundreds of Jewish communities throughout Russia, the material side of the upcoming holidays hasn't been neglected. These days, a massive food distribution project is underway to bring holiday joy to thousands of Jewish families before the upcoming New Year.
The project initiator, Chief Rabbi of Russia Berel Lazar, arrived at the Shaarey Tzedek Chessed Center in order to personally see how it's all getting done. He expressed his great appreciation to the organizers for their exemplary work both efficiently and respectably, as they ensure that the indigent and large families, receive their packages in a most sensitive and dignified manner.
Rabbi Lazar visited the various departments in the Center, in which teams of dedicated volunteers packed up the food products. He got an upclose look at which products are being distributed, and the extent of the distribution activities.
The Director of "Tzach" in Moscow, Shliach Rabbi Shneur Halperin, presented the holiday package which is being gifted to over twenty thousand Jewish families in Russia. It includes: challa, fish, meat products, a holiday guide, and a Chumash translated to Russian, as part of the "A Torah for Every Jewish House" project.