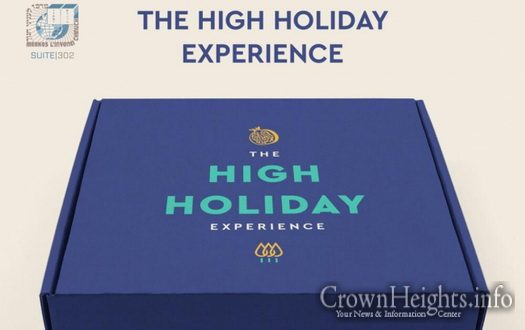 Bringing Judaism Home for the High Holidays
Here's a popular joke that usually makes its rounds during this season:
Rabbi Landau was standing near the synagogue exit shaking hands as his congregation left.
But as Max was leaving, Rabbi Landau grabbed his hand, pulled him aside and said, "Max, I think you need to join the Army of God!"
"But I'm already in God's Army, Rabbi," Max replied.
"So how come I don't see you in shul except on Rosh Hashanah and Yom Kippur?" asked the Rabbi.
"Max whispered, "Because I'm in the secret service."
Many things have been different over the past months, however with the high holidays approaching, the Jewish calendar is feeling the impact of the pandemic in the strongest of ways.
For many Jews, the high holidays is one of their only contact points with Judaism. Hundreds of hours are spent worldwide, with Rabbis and Rebbetzins putting tremendous effort and energy ensuring these services will be meaningful and engaging.
This year, due to the global pandemic, many Jews will not be able to attend Shul. They will be losing an opportunity to connect with the Jewish community and tradition that may be more necessary than ever. Merkos 302 has responded with a sweeping and wide ranging campaign that will ensure that every Jew will be able experience the spirit and inspiration of the high holidays wherever they may be – no matter their age or demographic.
From community members to leaders, from children to young professionals, from teens to adults, everyone should have an age appropriate and thoughtful way to experience the high holidays.
Mitzvah Society – The High Holiday Experience
Discover the spirit and inspiration of the High Holidays in your home!
Includes a Rosh Hashanah Experience kit that allows community members to experience and share the beauty of the holiday with their friends and family. Kits include apples, honey sticks, elegant and informative cards to enhance the holiday meal, along with a Yizkor kit and a childrens add-on.
For more information visit: mitzvahsociety.org/hhkits
Ckids High Holiday Tool-Box
Activities, crafts, child friendly guide and stories to help make the high holidays a meaningful experience for children at home!
Includes a custom guide for children, with activities, stories and games that will help children appreciate and engage with the holiday and its meaning.
For more information visit: shluchim.ckids.net/hhtoolbox
CYP – High Holiday Kits
A modern and fresh take on the high holidays for young jewish professionals!
Kits include modern and bespoke packaging with relevant and insightful commentary that is sure to make the holiday experience a contemporary and meaningful one for young professionals.For more information visit: cypincubator.com/highholidays2020
Cteen Machzor Companion
Learn about the holiday and its most seminal prayers in an engaging and riveting way. Geared for teens, appropriate for all!
A custom prayer companion that will transform prayer into a teen friendly experience. Thought provoking and insightful, with explanations and commentary that will keep teens involved in the holiday experience.
For more information visit: shop.cteen.com/products/machzor
Bringing the joy and inspiration of the High Holidays to every Jewish home, Merkos 302 is here to ensure every Jew will be engaged in the high holidays. ''We know that many people will not be able to leave their homes, or may not be comfortable doing so,'' says Rabbi Berl Frankel, ''and we felt that we had to provide a way for them to connect with their Neshama, their Jewish soul, during this time of the year.''
''Our goal is that every Jew will feel connected and engaged during the holidays.'' explains Rabbi Mendy Kotlarsky, ''It is even more important now, with so many people feeling lonely and uncertain, that they can look to Judaism for inspiration and hope. We hope that these programs encourage people to do so.''
If you know of anyone that can benefit from any of these programs, please reach out to info@mitzvahsociety.org
A project of Merkos 302