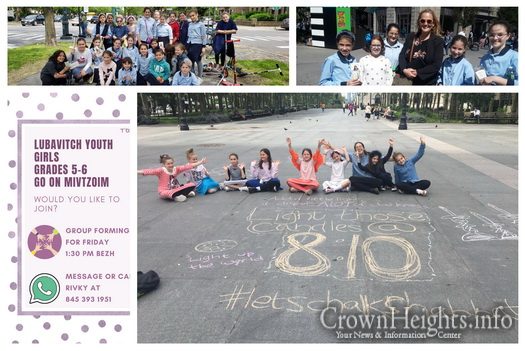 One sunny Friday afternoon, a familiar sight was noticed back on the Crown Heights streets. Lubavitch Youth Girls are finally back on the street, doing mivtzoim again. The Friday group has long been a highlight of the week for a group of elementary girls and their dedicated leaders. After consulting with medical professionals, they happily resumed their weekly mivtzoim group. The girls meet their chaperones at 1:30 pm on Friday afternoon, armed with water bottles and masks, and of course Shabbos candles, chalk, and stencils. They go within walking distance (no need for public transportation). The girls offer Shabbos candles to fellow Jewish girls and women, and leave a beautiful Shabbos message in chalk on the ground. The girls who join have a great time, and most importantly, give another yid a chance to do a mitzvah and bring Moshiach!
The group is geared for girls in grades 5-6, and all girls in Crown Heights this summer are invited to join. If a girl would like to join, message or call Rivky at 845-393-1951 to join the group.
This project is directed and sponsored by the Girls' Mivtzoim Division of the Lubavitch Youth Organization.
Note: All pictures are from before the lockdown.