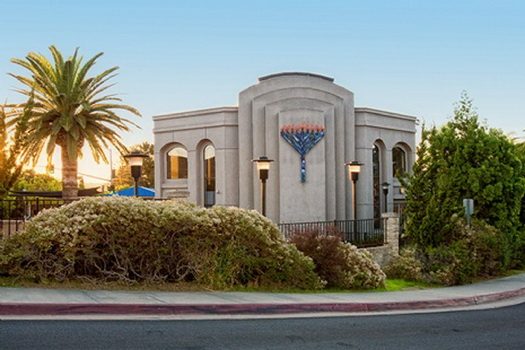 As was reported last year, in November of 2019 Rabbi Yisroel Goldstein stepped down as director and rabbi of Chabad of Poway. Today, eight months later, Rabbi Goldstein pleaded guilty to federal charges of tax fraud and wire fraud in a U.S. District Court in San Diego.
"Goldstein, 58, pleaded guilty to his role in a scheme where donors made large contributions to Chabad of Poway, but then secretly got most of the money back," reported the San Diego Union-Tribune. "Typically, Goldstein would keep a portion of the contribution — 10 percent — then funnel the remaining 90 percent back to the donor, according to a charging document unsealed in San Diego federal court Tuesday …
"The donor could then claim a large charitable contribution on their taxes, though he or she had only put out a fraction of the claimed amount. The conspiracy began at least as early as 2010 and netted at least $6.2 million in fraudulent donations, resulting in tax losses to the IRS of at least $1.5 million, according to prosecutors."
The news of Rabbi Goldstein's unlawful financial activity has dismayed those who know him and has particularly devastated the Poway Jewish community.
"This is a very painful time for our congregation. Following the attack on our synagogue last year, when we were frozen with shock and fear, Rabbi Yisroel Goldstein brought us together and inspired our community," reads Chabad of Poway's statement on their website. "That was the Rabbi Goldstein we knew. That was the Rabbi Goldstein the world came to know.
"Yet, we've since learned that Rabbi Goldstein violated the law, contradicted what our synagogue stands for, and transgressed the very moral and ethical rules of the Torah he taught."
At the time of the announcement about his stepping down, the organization was prohibited from explaining the full reasoning behind their decision, further indicating in their statement that it would have been considered interference with the U.S. Attorney's investigation.
In response to media inquiries, Chabad-Lubavitch World Headquarters stated, "While it is painful to learn about anyone engaging in unlawful activity, that pain is compounded when the person's life was supposed to be dedicated to sharing the eternal moral code of the Torah and to teaching about our personal responsibility to the Divine 'Eye that Sees and Ear that Hears.' That this person is someone who came to widely symbolize faith in G-d and fortitude in the face of evil is particularly devastating."
In the aftermath of the attack at Chabad of Poway, Rabbi Goldstein spoke publicly of Hashem's "ayin roeh v'ozen shomaas" — "the Eye that Sees and the Ear that Hears" and the need for society at large to adapt this in their private lives, especially through daily reflection.
The Chabad Headquarters' statement addresses "the many who were inspired after the Poway attack by the Torah inspiration Rabbi Goldstein shared and are rightfully dismayed by this news" and says, first of all," please know that you are not alone." And then goes on to point to the need to differentiate between the Torah's timeless teachings and the unethical behavior of someone struggling with his or her own ethical or other challenges:
"While the messenger was clearly more flawed than any of us knew, the teachings remain timeless and enduring. Now more than ever we must learn them and live by them."
The statement further says:
"Our hearts go out to Rabbi Goldstein's former congregants, to his family and to the broader Poway community, all of whom have already experienced more devastation than anyone should ever know. We pray that their faith and resilience strengthens them in this difficult time as well.
"The Torah teaches of the necessity for a person to acknowledge and take responsibility for his or her misdeeds, and to make amends to those they have hurt. Along with receiving the necessary professional help, we sincerely hope that Rabbi Goldstein utilizes his time ahead to do precisely this."