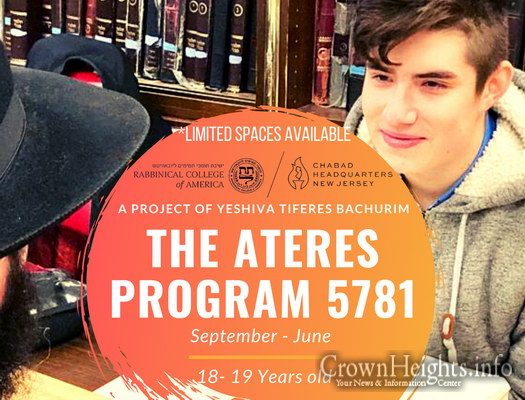 The Hanholoah of the Yeshiva in Morristown, NJ have announced the launch of a brand new post High School program beginning next year in Tiferes Bachurim Morristown under the name of Ateres
What is Ateres?
This program was created to inspire & energize the next generation of Chassidim, through authentic yeshiva learning, focusing on personal growth, learning skills in both the Talmudic and Chassidic studies all of which will be taught by our Rabbis who have years of experience in teaching students with an array of skills sets. We invite students from all Jewish backgrounds to join the program, more Specifically we are searching for students who are eager to learn and grow. We intend to create this atmosphere for growth through rigorously structured and executed daily curriculum supported by our Rabbis and dedicated shluchim. The personal growth will be achieved through a range of extracurricular programming which includes:
Friday outreach programs – Mivtzoyim- helping local shluchim & reaching out to local community members
Shabbatons – Across the New Jersey – New York area and beyond
Farbrengens – With guest speakers and Shluchim
Sports – On-site football and basketball grounds, beautiful forests for running and walking, on-site gym and in the winter months off-site locations for sports
Monthly and bi-weekly trips
Speakers and Events – A range of inspiring and eye-opening speakers – open mic nights and other special events
Personal Mentors – The Staff and Rabbis of Tiferes will be available to all students of the program for guidance and anything the student would need.
Learning Environment – The Ateres Program is a project of Tiferes Bachurim and will, therefore, be run in the Tiferes Zal and has a range of students from across the globe all of which have a range of ages and life experiences and will therefore create a cohesive bond of students who are eager to learn and grow.
A few words from the Ateres Hanholah
Rabbi Yaakov Wagner (Program Mashpia)
"In the past few years increasing numbers of younger students, products of growing programs such as cteens and ckids, have applied to Yeshiva Tiferes Bachurim. As a result the decision has been made to develop a track within our yeshiva that highlights these students and focuses on their unique needs. While Tiferes is a mature yeshiva that attracts studious talmidim affording them the opportunity to build skills in all areas of learning, this new track will add more incentives, recreation, and extra oversight. We are excited at the initial very positive response from parents and shluchim alike."
Ben Bursk (Program Head Shliach)
"The past few months have been so incredibly difficult for people globally. I am so grateful for the opportunity to help bring back the smiles to bachurims faces with personal care and attention to each bochur and to be able to elevate them to their true potential"
Zachary Kramer (Program Coordinator)
"This is just so exciting, after spending my last few years of Yeshiva in Tiferes I am so excited to be able to give over everything I have learnt to new students"
Mendy Uhrmacher (Program Shliach)
"It is a privilege to be involved with the Ateres program. I am looking forward to the coming year, farbrenging, learning and spending time with you all."
For more information and to apply please check out: www.yeshivanj.com/ateres-program
To contact us please email: ateresprogram@gmail.com
Covid 19 Update
We are continuing to accept student applications for the upcoming year 2020/2021 but we are closely observing the government guidelines. In doing so, we have not as of yet released the official start dates. Once we are given the go ahead we hope to release the dates officially. Thank you for your understanding.