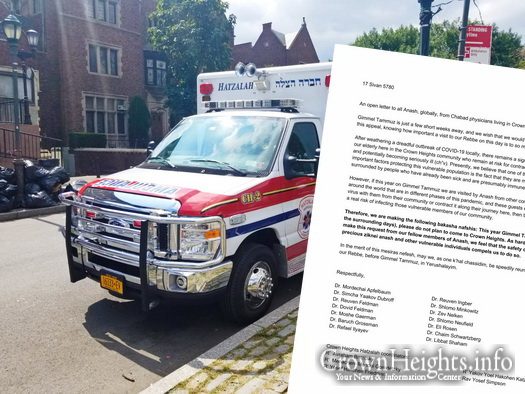 by CrownHeights.info
Please Do Not Come To Crown Heights For Gimmel Tammuz
The Chabad physicians of Crown Heights have published an open letter to members of Anash worldwide requesting that they do not come to Crown Heights this Gimmel Tammuz.
"After weathering a dreadful outbreak of COVID-19 locally, there remains a significant number of our elderly here in the Crown Heights community who remain at risk for contracting the virus and potentially becoming seriously ill (ch"v). Presently, we believe that one of the most important factors protecting this vulnerable population is the fact that they are mostly surrounded by people who have already been sick and are presumably immune."
The Doctors pointed out that if Anash from other communities around the world that are presently at a different phase of the pandemic visit Crown Heights, they may carry with them, either to Crown Heights or from. Such potential exposures could "pose a real risk of infecting those vulnerable members of our community."
There fore the doctors made the following request :
"This year Gimmel Tammuz (and the surrounding days), please do not plan to come to Crown Heights. As hard as it is to make this request from our fellow members of Anash, we feel that the safety of our own precious ziknei anash and other vulnerable individuals compels us to do so."
The letter was signed by fourteen Crown Heights physicians, as well as all five of Crown Heights's Hatzalah Coordinators.
There has also been no word from the Ohel yet on whether they will be open for Gimmel Tammuz this year.
Want to receive live updates and Breaking News for Crown Heights and the Chabad world directly to your Whatsapp? Sign up for CrownHeights.info's whatsapp updates.
Simply save the our number 718-285-8000 to your contacts and send us a message.