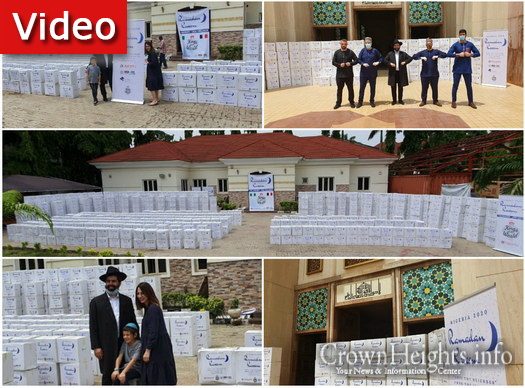 by CrownHeights.info
Rabbi Israel Uzan and his wife Chaya of Chabad Lubavitch of Nigeria, donated food packages to more than 3,400 Muslim children during Ramadan in a sign of continued religious tolerance and coexistence.
Israel first visited Nigeria in 2008 as part of a program to help far flung Jewish communities during holidays. He later moved there with his wife on Shlichus to Abuja after they married in 2010.
Today, the Chabad House is based in Abuja, the country's capital. They estimate that there are about 1,200 Jews, mostly Israelis, in Nigeria year-round. Some 50 families live in Abuja and 20 families in Lagos, the country's largest city, some 467 miles away. Most of Nigeria's Jews tend to live there for several years while employed at Israeli-based companies.