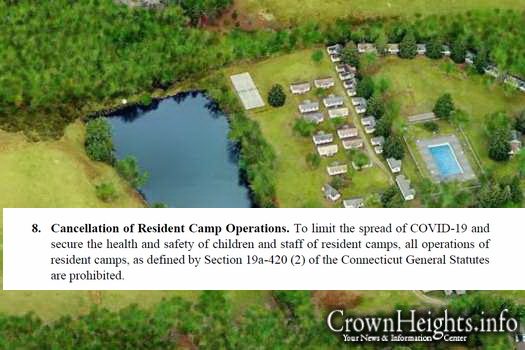 by CrownHeights.info
Connecticut Governor Ned Lamont signed an executive order Monday night prohibiting resident camps (sleep away camps) for this summer.
"To limit the spread of COVID-19 and secure the health and safety of children and staff of resident camps, all operations of resident camps, as defined by Section 19a-420 (2) of the Connecticut General Statutes are prohibited."
The order signed last night effectively closes Camp Chomeish, the one Lubavitch overnight camp located in Connecticut that had announced its plans to open.
In an email regarding the closure, Camp Chomeish noted that they are fighting the decision. "As our motto up until this point was the ruling of our Rebbeim that "tracht gut VET zein gut", this is still our motto, and we are hopeful that this order will be reversed bezH. We are currently reaching out to the office of the OEC, the Governor's office, and the ACA."
The camp had originally announced it's plans to open in an email sent out in early May, after the states Early Childhood Department published guidelines for summer camps. Those guidelines were overruled by the governors order.
The camp also noted that the governors decision is not in line with recommendations given by the CDC and American Camping Association, who say that overnight camps are in fact safer than staying home.
While the order closes all overnight camps, it does allow day camps to open starting June 22nd with restrictions.

CT Overnight Camps