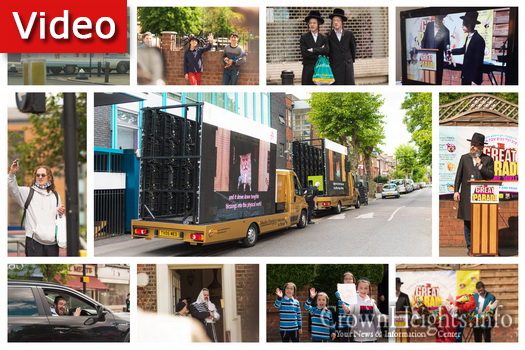 "Every situation needs to be used in a positive way. This year we brought the joy of Lag Baomer to the quiet streets of London and allowed others from around the UK to participate through a live stream. We had many requests to do this in the future.
The first parade was in 5720 – 1960 drawing many people closer to Yiddishkeit, may this propel us forward to the ultimate parade with Moshiach Tzidkeinu" Rabbi Sholem Ber Sudak
In the midst of lockdown, the streets of London were filled with music and happiness, the annual Lag Baomer Parade was coming to them, to the people of London!
This past Tuesday morning the Lag BaOmer Parade drove through the streets of North London bringing joy to hundreds of local families stuck at home in lockdown.
The programme started with a rally led by Rabbi SB Sudak. Children recited the 12 Pesukim, Live Music was played by Mendel Moses accompanied by a dancing clown and Rabbi Simcha Blum entertained the children with a story with a lesson on Ahavas Yisroel.
For over 60 years Lubavitch has been organising Lag BaOmer parades in Stamford Hill, London. But this year something was very different. The usual crowd wasn't there to respond to the pesukim, sing with the music, cheer and dance along with the clowns. Instead, the event was broadcasted live and was watched in over 1000 homes around the world.
The rally was followed by a 'Drive-by' parade that drove around the Jewish community of Stamford Hill.
The parade was led by the Mitzvah Tank, followed by cars decorated with signs and floats of the Mivtzoim, as well as 2 trucks playing a video of the Rebbe and pictures of children holding their banners proudly just as they would by a regular parade.
The parade was greeted by adults and children cheering from their windows or front doors and children holding banners in front of their homes.
"Thank You for the parade, and sharing the Lag BaOmer spirit, we appreciate the determination that you had to organise this event despite the current situation, and despite the many obstacles that stood on your way" E.P.
"Thank you for organising this amazing event and parade, it made a huge difference" D.D.
"Tremendous! Yasher Koach… My kids enjoyed thoroughly" S.W.
"Thank You for all your hard work, we finally got to be part of the London Parade!" S.L. – Brighton
"Well done! Amazing job! Thanks for coming down our way; to Tottenham!" D.K.
"My kids stood on the sidewalk cheering on, really enjoyed. Yasher Koach." A.C.
"That was really impressive well done!" R.C. – Leeds
Many thanks to the organisers of the parade, Rabbi and Mrs Sholem Ber Sudak, Mendel Sudak and the team at Lubavitch Children Centre for making this event possible.
(Photo credits: Chaki Vogel)