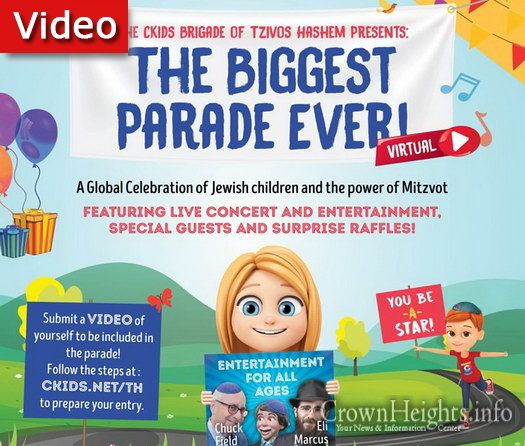 Today at 5:30pm EDT, tens of thousands of Jewish children will celebrate Jewish unity at the biggest ever Ckids Lag B'omer parade.
12 participating countries will join in this momentous occasion, making it the biggest global virtual Lag B'Omer parade in history. Kids from South Africa, Australia, England, Sweden, Denmark, Thailand, Canada, USA, Portugal, France, Ireland and Israel are looking forward to this exciting event.
The parade will feature a live concert with Eli Marcus and Mendel Deitsch, entertainment by ventriloquist Chuck Field and wacky scientist Dr. Shnitzel. Special guest Ambassador David Friedman will send greetings all the way from Israel, a sicha of the Rebbe, the 12 Pesukim, and raffles throughout the rally will keep the excitement pumping. An international mitzvah march will showcase video submissions that were sent in from kids around the world marching with a mitzvah poster.
Tune it TODAY at 5:30pm EDT to Chabad.org/biggestparade
CKids is an organization devoted to providing rich and meaningful Jewish experiences for children at Chabad houses worldwide. This year's Lag Baomer festivities will be open to the entire Jewish community as well.
You don't want to miss this! The Biggest Lag Baomer Parade Ever will air LIVE TODAY! Tuesday, May 12, at 5:30pm EST. Visit Chabad.org/biggestparade to watch.