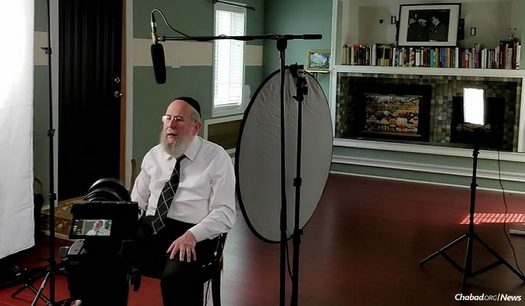 Obituary: Rabbi Yehuda Refson, 73, Senior Rabbi in Leeds, England
by Mendel Super and Menachem Posner – chabad.org
Dayan Rabbi Yehuda Yaakov Refson, a veteran Chabad-Lubavitch emissary in Leeds, England, rabbi of the Shomrei Hadass Synagogue, director of the Leeds Menorah School and longtime head of the regional beth din, passed away on Sunday night. He was 73 years old.
Born in 1946 in Sunderland, a small seaside town in northeast England, Refson's parents, Reb Avrohom Abba and Chava Refson, along with the rest of the town's Jews, had their roots in Lithuania. It was a small but prominent Jewish community that numbered around 1,400 in its heyday. Reb Avrohom Abba was a man of considerable means, a well-known philanthropist in England's Jewish community, and an early supporter of Lubavitch activities in the United Kingdom.
As a youngster from a non-Chassidic household, Refson began to study Chassidic thought with Sunderland's shochet, or ritual slaughterer, Rabbi Sholom Ber Levin. At 16, while learning in the Lithuanian-style yeshivah in Gateshead, England, he wrote to the Rebbe, Rabbi Menachem M. Schneerson, of righteous memory, telling the Rebbe that he yearned to study in a Chabad yeshivah.
The Rebbe advised the boy to join the United Lubavitcher Yeshivah, in Brooklyn, N.Y., near his headquarters. So far from the comforts of his home, Refson was apprehensive about making the move. The Rebbe responded to him in English, telling him that if G‑d gives someone a challenge, with that He also gives him the strength to overcome it. Coming to Brooklyn, and beginning to transition to Chassidic life at the yeshivah, popularly known as "Bedford and Dean,"—the cross streets it was located at—the young boy felt overwhelmed at times.
At his first farbrengen, a Chassidic gathering at the Rebbe's court, after some time in the room packed with Chassidim, Refson left to go outside and catch his breath. Almost immediately, he was told he must come back—the Rebbe was looking for him. "Where is the son of Rabbi Refson of Sunderland?" the Rebbe asked Rabbi Mordechai Mentlik, the head of the yeshivah, making the young student feel right at home.
Pioneering Tefillin Campaign
After studying in Brooklyn for a year, Refson traveled to Brunoy, France, to continue his studies at the Yeshiva Tomchei Temimim Lubavitch, under the tutelage of the famed Rabbi Nissan Nemanov and Rabbi Yosef Goldberg. At that time, he pioneered the campaign in the country to Jewish men and boys to put on tefillin, an effort recognized and commended by the Rebbe. After completing his studies in France, he joined the central Yeshiva Tomchei Temimim in Brooklyn, N.Y.
A diligent student, Refson was ordained as a rabbinic judge and rabbi at the yeshivah in Brooklyn and also received ordination from the world-renowned halachic authority Rabbi Moshe Feinstein.
After marrying Ettel Raskin, the couple settled in the Crown Heights neighborhood of Brooklyn, where the young rabbi furthered his rabbinic studies. In 1973, the rabbi's father suddenly passed away and the Refsons immediately traveled to Sunderland to care for his aging mother and—upon the Rebbe's advice—continue his father's extensive business affairs, rather than take up a rabbinic position. "The Rebbe told my father that often a businessman can be more influential than a rabbi," explains Rabbi Abba Refson, "because a rabbi is paid, while a layman's words will have a greater effect."
Soon after their return to Sunderland, Refson received a phone call from Rabbi Benzion Shemtov, director of Lubavitch U.K. Shemtov, an elder Russian Chassid and survivor of the Siberian gulags, informed Refson that he would be arriving in Sunderland the next afternoon and asked the younger rabbi to fetch him from the railway station.
Shemtov explained that he felt the Refsons—younger than most of the aging Sunderland community, and the only Chassidic family for miles—must be a little lonely, especially for his wife, in this far-off and unfamiliar English town.
"When you greeted me at the station with such a big smile I already felt better," said Shemtov, explaining why a mere phone call would not suffice "Then when I entered your home which exuded true happiness and Chassidic tranquility, and your wife's smile matched your own, all my worries disappeared. From now on I will be able to keep in touch with you by phone more easily and do what I can to help you through this challenging period."
In 1976, experiencing many setbacks in his business ventures—"I ran the business into the ground," he would later recall— the Refsons moved to Leeds, taking up the pulpit at the Shomrei Hadass synagogue, and becoming leaders in its Jewish community, eventually overseeing Jewish education and kosher supervision in Leeds.
"My parents had to send me to the local Jewish school," recalls Rabbi Abba Refson. The kids would make fun of the boy's yarmulka and he didn't fit in. At the next opportunity, visiting Brooklyn for a wedding, the Refsons had a private audience with the Rebbe. "My mother started crying to the Rebbe about our education, bemoaning that she couldn't give her children a Chassidic education." The Rebbe told them: "Open your own school." At that time, the rabbi was already running an after-school program, providing supplementary Jewish education to local children. The Rebbe advised him to take five of his best students and begin a school, giving them detailed instructions on opening the school, telling them to invite his brother, Rabbi Dovid Refson, a noted educator to speak at opening day.
Wide-Ranging Rabbinic Leadership
Throughout the decades, the soft-spoken and unassuming rabbi led his community and inspired them to continue to build, even as the population slowly declined. Under his guidance, a number of Chabad emissaries took up key positions in the city's Jewish community, ensuring a stable, inspired and devoted leadership.
At the same time, Refson's rabbinic responsibilities to the entire Jewish community grew, as a respected dayan, religious authority, serving all Jews in the city.
Famed far beyond Leeds, he dispensed guidance to people from around the globe, who would seek to gain from his wealth of knowledge that encompassed both Torah matters as well as secular learning.
A prolific scholar and educator, in addition to his many local responsibilities, in 2018 Refson taught "Soul Talk—The Science of Being", an adult-education course on Chabad.org, which proved to be very popular, with thousands around the world tuning in to watch the four-part series.
He was known for his profound love for his mentor, the Rebbe. "He was connected with the Rebbe with his heart and soul," says his son Rabbi Abba Refson, recalling how his father rushed to New York after the passing of the Rebbe's wife, Rebbetzin Chaya Mushka Schneerson, of righteous memory. "He implanted that love and connection in all his children," Rabbi Abba says, noting that most of them went on to become Chabad emissaries, dedicating their lives to the Rebbe's work.
He is survived by his wife, Rebbetzin Ettel and their children: Rabbi Abba Refson (Queens, N.Y.); Rabbi Yossi Refson (Charleston, S.C.); Sorale Jaffe (Manchester, England); Leah Wolf (Melbourne, Australia); Rabbi Michoel Refson (Athens, Ga.); Rabbi Sholom Refson (West Oceanside, N.Y.); Chavi Steiner (Minneapolis), Rabbi Zalman Refson (Savannah, Ga.).
He also is survived by his brother, Rabbi Dovid Refson of Jerusalem, a pioneering Jewish educator who is the founder of many Torah institutions, including Neve Yerushalayim.