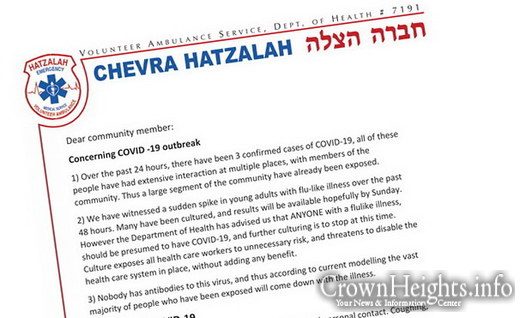 Coronavirus Exposure In Crown Heights Over Purim, Crown Heights Hatzalah Publishes Guidelines And Information
by CrownHeights.info
A large Coronavirus exposure took place in Crown Heights over Purim, bringing the virus into the heart of the Crown Heights Jewish community.
The person infected traced back to the first case of coronavirus in New York City, a Jewish Orthodox lawyer who lived in New Rochelle. The connection between them was separated by no less than three intervening individuals, but still, the virus made its way into Crown Heights.
The infected individual visited multiple Purim parties while in Crown Heights, lively with the Purim spirit, all while unaware that they had contracted the virus.
This marks the first mass exposure in the Crown Heights Jewish community, potentially exposing hundreds of people to the virus.
While this virus effects the young and healthy only mildly, it is dangerous for the elderly and those with other medical conditions.
To date, the most effective method of keeping safe from the virus is simple hand washing, with those who are vigilant being significantly less likely to contract or spread the virus.