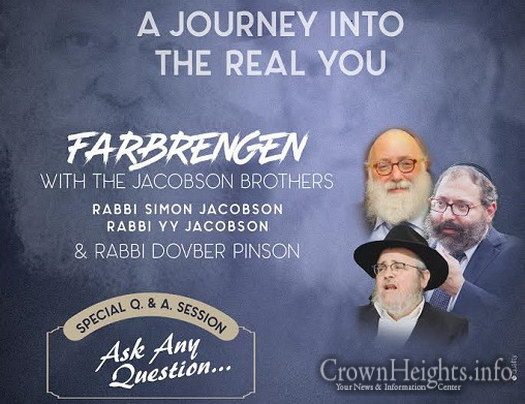 Mega Farbrengen Planned in Monsey for 70 Years
Rabbi Simon Jacobson, Rabbi YY Jacobson, and Rabbi Dovber Pinson will lead a grand farbrengen on Tuesday evening, February 4th, the eve of Yud Shevat.
"70 Years of Revolutionizing Judaism" is the theme of the evening, expected to attract many hundreds of Jews from all backgrounds, at the famed Scheiner Shul, on 20 Forshay Road, in Monsey, NY.
"We will be exploring six ways the Rebbe's teachings can transform your life, religiously, personally and professionally," said Rabbi Simon Jacobson.
The grand farbrengen, for men and women, will enjoy targeted addresses by the Jacobson brothers, special music performance, with a unique Q&A session, for people to ask any questions they wish, followed by a second segment farbrengen with Rabbi Dovber Pinson.
The event will begin at 7:30PM, and will be streamed live on TheYeshiva.net and ChassidusApplied.com.