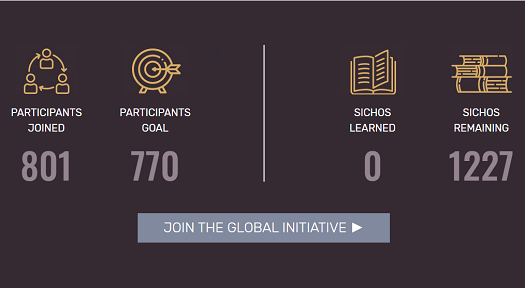 Project Likkutei Sichos Blows Through Expectations With Over 770 Sign-Ups
After announcing last week that a project was underway to join people together in learning through Likkutei Sichos over a few years, the organizers' expectation were exceeded with over 800 signups to date.
The project was launched ahead of Yud Shvat, as we mark Shivim Shana – 70 years of the Rebbe's Nesius. In an effort to capture the inspiration of this special milestone, Chassidim worldwide are uniting in a coordinated and consistent regimen of learning Likutei Sichos every week.
The learning schedule will start with 2 sichos per week and gradually grow to 3 per week, thereby completing all 1,227 sichos of Likkutei Sichos in approximately 8 years. There are many ways you can participate; whether by joining a local shiur, downloading a podcast, learning with a chavrusa or alone. The website will be updated weekly with accessible resources of all kinds, in an effort to support you in your learning. Multilingual audio and video Shiurim, summaries, review tools, discussion forums and many more resources will become available over time.
To sign up for this project, please visit https://projectlikkuteisichos.org/join/ and complete the simple form.
To contribute to this project by preparing resources, giving a Shiur, or in any other way, please contact at https://projectlikkuteisichos.org/contact-us/.