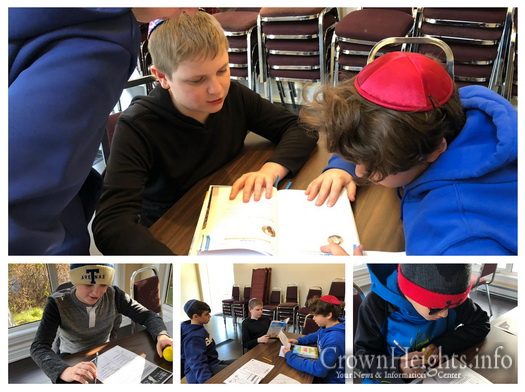 In Mississauga, Ontario, the Jewish kids who come to the Miriam Robbins Chabad Hebrew School aren't the only Jews in their public school classes—they are the only ones in their whole school. Just a half hour away is Toronto, a bustling Jewish community full of kosher restaurants, Judaica stores, and a synagogue on every other block. But living 45 minutes away from Toronto, "we're in another world," says Hebrew School director Sara Slavin.
Joining the JewQ Torah Championship has made that world feel much smaller. For Rabbi Yosef and Sara Hecht, Chabad directors in Aurora, "JewQ was an opportunity for the students in our small Hebrew school to feel part of something bigger." In their Hebrew school of 20 students, 4 have risen to the call of the international competition.
In just a few weeks, 63 JewQ champions from 9 Hebrew schools in the Greater Toronto area will represent their grades in a live competition event hosted by Rabbi and Mrs. Landa of Beth Chabad Hebrew Community Center. Hebrew Schools in Mississauga, Aurora, North York, Maple, Thornhill, Midtown, Faywood and Dublin, Wilmington, Hamilton, and Richmond Hill are all participating. Students who make it onstage have scored the highest on 3 tests taken over the past 3 months; they have earned their time in the limelight. Says Hecht about her students: "They are extremely invested. This means a lot to them."
Kids have been learning material from their JewQ textbooks, which were written and designed especially for the championship. Called Living Jewish, the books cover all the basic fundamentals of Jewish practice.
Hebrew school director Sara Hecht is shocked—and impressed—with how much information the students absorbed. "We've been teaching a lot of this information year after year," she says. "And all of a sudden, with the kids motivated by the JewQ competition, they know their stuff backward and forward."
Libby Landa, director of Chai Hebrew School, agrees. "Our 7th grade students are spouting information about the Jewish heroes," she says. "Parents have told us that kids are using their iPads less and studying their books in their free time," she says.
The Toronto game show is just one in a series of regional events taking place before the international Shabbaton and competition this March. The unforgettable weekend experience in Crown Heights, New York, brings parents and kids together for thrilling adventures and meaningful Jewish experiences.
"For me, the clincher to joining JewQ again this year was the Shabbaton," says Sara Slavin. "The 3 kids who went came back completely transformed. One of the boys started wearing his CKids yarmulke to his public school." In a town where being Jewish is viewed as something fascinating, and maybe a little eccentric, at the Shabbaton the Mississauga kids finally got a chance to be just like everyone else.
The promise of the international Shabbaton is what gets kids motivated to learn, along with other incentives provided by each region. In Toronto, any student who scored above a 70% average on all 3 tests gets to join a trip to Jack's Urban Jungle the following week.
The JewQ model is the alternative to traditional classroom teaching that is on track to become the next big thing in Jewish education. So far this year, 2100 Hebrew school students have joined, double last year's 1008. At the Toronto regional event alone, close to 300 seats will be set up for the game show audience. "JewQ has made a huge splash in our community," says Rabbi Mendel Zaltzman, Director at Chabad of JRCC.
As the regional championship gets closer, kids are studying harder and harder, taking their books home after Hebrew school to memorize facts and review information. "My daughter takes this more seriously than any of her classes at school," said a parent.
Join the Toronto JewQ regional championship on Sunday morning, February 2, at Beth Chabad Hebrew Community Center. Contact your local Chabad Hebrew School to RSVP.