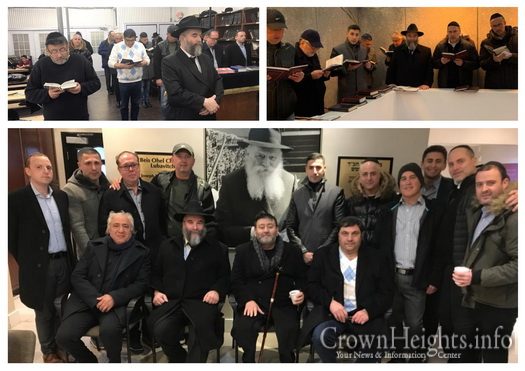 As per annual tradition, Chabad Shliach Rabbi Avrohom Holtzberg of Georgetown in Brooklyn takes the Chatanei Torah from his Chabad House to an inspiring Trip to the Ohel. Every Year the privilege is bought on Simchat Torah by a few members of the Shul and are honored with a celebratory ceremony.
For the last ten years, the Chatanei Torah of Chabad of Georgetown have kept a tradition; after Simchat Torah they were treated to a special Shabbat Dinner designed for them and their families. Shabbat day, a large kiddush is sponsored by the honorees where the whole community is given a chance to join in the festivities. Each of the Chatanim had their chance to share something with the crowd, in which they described their excitement in being a part of something so special.
In more recent years, there have been additions to the routine. Sunday, most of the Chatanei Torah took a very moving and uplifting trip to the Ohel. Following the Ohel they celebrated an exquisite dinner at Orchidea.
There's no denying the success in it since those who are a part of it once, come back the following year to take part in it again. All those involved in this Zchut year after year are astounded by the blessings and the success it brings into their daily lives.