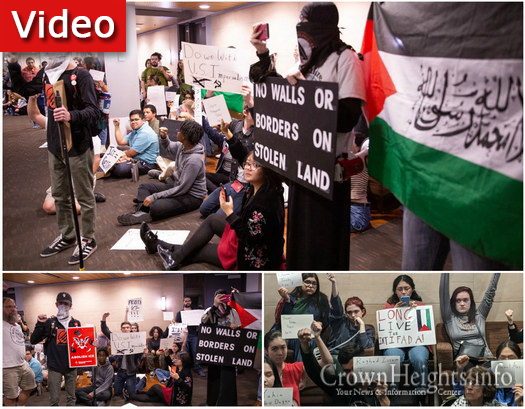 by CrownHeights.info
Arizona State University Shliach, Rabbi Shmuel Tiechtel found his scheduled IDF event "occupied" yesterday by pro Palestinian protesters. The event had been planned for room 204 Concino at the MU on campus, but when they arrived, the room was full with pro Palistinian protesters and flags.
The protesters claimed to be from Students for Socialism ASU, and had gone to social media calling for others to join them in "occupying" the event.
The event had been properly planned and scheduled with the University, and the protesters in violation of campus policies.
Rabbi Teichtel notified the students of the issue in a statement saying "…there is a protest going on in the room we were supposed to be in. There are Palestinian flags hung and signs and we are having a lot of difficulty figuring out what to do. We might switch rooms."
ASU administration was immediately involved, and campus police notified.
Ultimately, the venue for the event was changed to a different room.
This incident comes just one week after anti-Semitic flyers bearing swastikas were found on Campus. The flyers were broadly condemned across the campus administration.