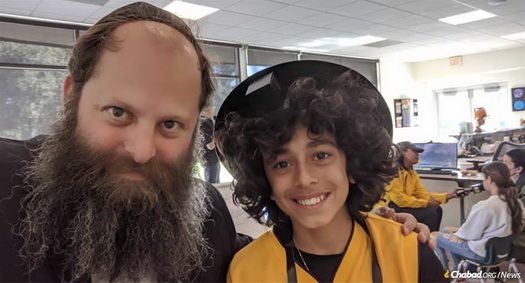 Rabbi Chaim Bryski helps a teen put on tefillin at a California wildfire evacuation center.
by Faygie Levy Holt – chabad.org
Rabbi Chaim Bryski was carpooling a group of yeshivah boys, his son among them, from Thousand Oaks, Calif., to their school in Los Angeles this week when he found road after road closed because of the raging Getty Fire. They spent six hours on the highway before being forced to turn off the road.
The Getty Fire has forced thousands to evacuate their homes in the region, and the blaze, which authorities are saying may have begun as the result of a tree branch blown onto a power line, is still not contained. The rabbi, his son and the boys pulled into the Palisades Recreation Center, where they themselves donned tefillin and said the morning prayers before offering other Jews the opportunity to do so as well.
"By Divine providence, we met Rob Weber and his son," Bryski told Chabad.org. Weber later posted online about his morning and noted "Met some stranded Chabadniks … hung tefillin."
Still stuck, Bryski and the boys pulled out their Talmuds and began studying.
The road eventually did open back up, and the group managed to get to Los Angeles, but with the current string of fires breaking out in the region, Bryski again found himself in an evacuation center two days later. This time, he came more prepared to help.
At a center serving evacuees from the Easy Fire in Simi Valley, which is currently only 10 percent contained, Bryski encountered a number of area Jewish families, including the Mishkanians, whose 13-year-old son, Troy, recently celebrated his bar mitzvah at Chabad of Thousand Oaks. Both Troy and his father, Jon, happily took the opportunity to put on tefillin with Bryski.
The rampant fires have been particularly hard on senior citizens, who are forced to leave the comfort of their assisted-living centers in the current spate of evacuations. At one center Bryski regularly visits, he was called in to help reassure and escort the elderly residents to their temporary locations.
"It's very disorienting for them and most of their family members can't even reach them," said Bryski. "Our job is to help how we can, to be that familiar face amidst all the chaos."