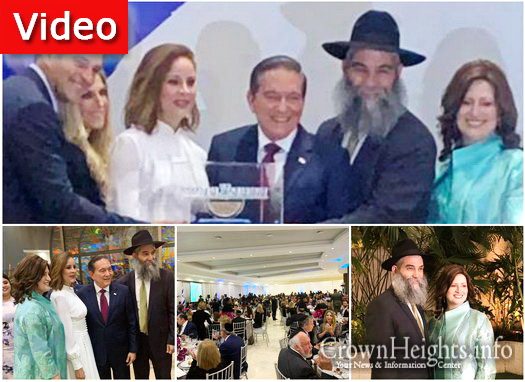 On Thursday, August 29th, 2019, 80 years since the establishment of the Beth El Synagogue in Panama and 25 years since Rabbi Aron Laine, began serving as the Spiritual leader there, the community honored him and his wife, Rebetzin Freadel, for their dedication to the community.
The President of Panama, Laurentino Cortizo and his wife Yazmin were the guest of honor at the celebration, making a great Kiddish Hashem.
Yazmin, the First Lady, had gone above and beyond for the occasion, purchasing a dress from a Jewish store, with the request that it be a "respectful dress."
The overflowing crowd was encouraged by the warm words of the President that he will be good to the Jewish population and for the economy.
Rabbi Aron Laine, known in Panama as "A Rabbi with a warm Heart," spoke about the accomplishments that the Jewish Community had through the growth and development of Panama.
Everyone was encouraged by the warm reception the President received and returned to all.