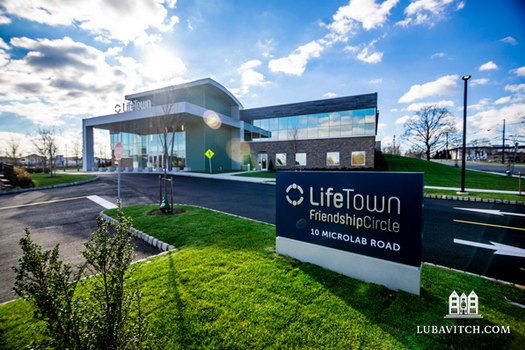 by Baila Olidort with Tzipora Reitman – Lubavitch.com
This Monday, September 9th LifeTown will open in Livingston, New Jersey. In conjunction with this, we share the below article which appeared in the summer edition of the Lubavitch International magazine.
Ryan Warter was thrilled to be playing with the NY Jets. They had come to help inaugurate a new professional-grade turf football field in Livingston, New Jersey, and Ryan, who was born with a rare genetic condition, had a personal stake in it. Constructed by the local Friendship Circle in conjunction with the NFL, NY Jets and United Way, the football field was the first completed phase of LifeTown—a dream-in-the-making of a radically new community for people of all abilities.
At seventeen, Ryan communicated in sign language and lived with significant physical limitations. Life was hard for him. Therapy was hard. Education was hard. But his imagination was alive with the possibilities that LifeTown held for him, and he followed its progress closely. "We used to drive by the site, and Ryan would look at the brochure and see how the construction was coming along," says his mom, Barbara. He was especially excited about the pool and the bowling alley.
Set on five sprawling acres and surrounded by New Jersey's hills and parks, LifeTown offers children and adults with special needs the opportunity to work, play, and learn together with their peers, with and without disabilities, in a rarefied setting of true integration. The $18 million project, breathtaking in its scope and creativity, is the outgrowth of the local Friendship Circle and the vision of its leaders, Rabbi Zalman and Toba Grossbaum.
A Model Community
Small Audi cars (donated by DCH Millburn Audi) zip around the street in LifeTown's main square, with traffic lights that visitors learn to obey. The centerpiece of the 53,000 square foot campus is LifeTown Shoppes. A branch of Regal Bank, a mini Shoprite supermarket, an RWJBarnabas medical center, a florist, a hair salon and other shops are open for business along Main Street. Paved sidewalks, benches and pretty flowers create a safe, quaint, small town feeling.
At the friendly, accessible bank and shops, teenagers with disabilities will get the practice they need to help them transition from school to the next stage of life. They will learn how to bank, budget, navigate a supermarket, make purchases, and set and keep appointments. At the medical center, they will learn what to expect in the dentist's chair—which can be a highly stressful experience for people who are acutely sensitive to noise and touch.
The dentist too, will learn how to interact with people with disabilities. "Dental students will be doing internships at LifeTown, so they will have exposure to kids with special needs," says Toba. Likewise, the volunteer bank teller will learn how to conduct transactions with young adults with autism, and the barber will gain experience giving haircuts to children with sensory issues.
Each of these professionals will then bring their newly-developed inclusion and accessibility expertise back to the mainstream medical practice, bank, and salon. As a result of their experiences in LifeTown, these institutions will become more accessible to customers of all abilities.
Family Friendly
On a Sunday morning in May, several months after LifeTown's activity centers opened, Justin, eighteen, and his buddy, Harrison, shoot a few hoops in LifeTown gymnasium. Justin is more comfortable here than in a typical gym because this one is equipped with sound-absorbent walls and a sound absorbent ceiling, enabling individuals who experience sensory overload to participate in sports without discomfort.
"There's no other organization that provides what Friendship Circle does," says Justin's father, Armin Frey.
State-of-the-art recreational facilities, like the aquatic center with a zero-entry wheelchair-accessible pool, a bowling alley, a therapeutic activity wing designed to mimic a natural park and beach setting, and indoor and outdoor playgrounds, make LifeTown appealing not only to people with disabilities, but also to their parents, friends, and the general public. LifeTown's Dance and Music Studio, the teen lounge, and the Birthday Center will be used by all the area's children. And the coffee shop and bookstore will make LifeTown an ideal destination for the entire community.
Ryan was particularly invested in the creation of LifeTown's fully accessible theater. He even helped raise funds for it in memory of his father, who died of leukemia in 2016. The LifeTown movie theater will bring families out to see new releases while the LifeTown theater will stage live performances.
"LifeTown is a model for the creation of community settings that would allow individuals with different abilities to practice real life experiences," says Dr. Barbara Listhaus, a psychologist with a specialization in neuropsychology. Her family—one of LifeTown's founding donors—has been involved in Friendship Circle New Jersey since its inception, when her son Jonathan, participated.
Reimagining "Inclusion"
In 2000, the Grossbaums, Chabad representatives to Livingston, New Jersey, founded the local chapter of Friendship Circle, an organization that connects children with special needs to local teenage volunteers in the area. According to the Centers for Disease Control and Prevention, New Jersey's statistics are staggering: One in thirty-four children in the state—including one in twenty-six boys—is diagnosed with autism by their eighth birthday. Within the state itself, the greatest number of individuals with autism are in Essex County, where the Grossbaums live.
The Chabad representatives took the challenge personally. "The more we got to know our community through Friendship Circle, the more we felt we needed to do something that would be transformative," says Toba. She and her husband drew inspiration from the Lubavitcher Rebbe: "The Rebbe recognized that individuals with disabilities possess unique abilities to grow and affect the world around them." What might such a world look like, they asked themselves.
Created with the support of Paula Gottesman and her late husband, Jerry, for whom the facility is named, as well as Seryl and Charles Kushner, pillars of philanthropy in Jewish education, LifeTown is a shared community venture. More than 2,500 individuals contributed to the campaign. The Grossbaums collaborated with a host of engineers, architects, artists, and therapists to curate their vision.
The prototype of LifeTown, successfully serving the West Bloomfield, Michigan community since it was established in 2005 by Rabbi Levi and Bassie Shemtov, served the Grossbaums as an invaluable model. "What they did was groundbreaking. We learned a lot from what they achieved and it's been an excellent model for us," says Rabbi Grossbaum.
Designing the Dream
Touring LifeTown is like walking through a world of irrepressible imagination. From the musical stairs to the unusual Alphabet Wall—which displays the alphabet in Braille, ASL, English, Hebrew, Mandarin, and other languages—to the zero-entry pool, the indoor therapy park, and the immersive therapy rooms, it seems that whatever could be imagined has been realized.
Rabbi Levi Grossbaum, Zalman's brother, who oversaw the construction of LifeTown, says that LifeTown's design partners brought a deep level of care to the project: "Our architect, Lance Blake of Rotwein & Blake, approached every room with an understanding of the program it would house, and with an eye towards accessibility, warmth, and beauty."
Likewise, Greg Gallimore of Cloudberry Studios, a leading design firm, conducted copious research before creating the muted primary color scheme, which is designed to suit the various age groups served by LifeTown. The wayfindings at LifeTown make navigation intuitive for people with disabilities, and colorful stripes lead participants from the map to specific rooms. Even LifeTown's 112 mezuzahs are color-coded to match the different zones of the building.
The power of LifeTown's innovative design is perhaps clearest in the Snoezlen Sensory room, which was created to serve people like Kesha Kaufman, fourteen. After kicking a ball around the outdoor turf field, Kesha, who is not verbal, needs help to wind down. LifeTown therapist Steven Waters brings him into the Snoezelen Sensory room, where bubble machines, colorful light displays, musical vibrating chairs, and various aroma technologies provide a calming multi-sensory environment.
A Different Kind of Factory
On the lower level of LifeTown, construction is set to begin on a food plant with specs and machinery designed for safety and accessibility. The plant will produce and package a prepared challah mix—developed by culinary leader Susie Fishbein—that takes all the fuss out of the sometimes laborious process of challah-baking, while delivering delicious results every time.
But even more than what goes on in the kitchen, it's what goes on behind the scenes that will make consumers reach for this novelty product. Because unlike most other food manufacturers, this business will be driven by a higher purpose and a different bottom line.
Instead of asking questions like, "How fast can we move hundred-pound bags of flour and sugar through the plant," designers and engineers, says Toba, are asking, "What is the safest way to move those bags so that everyone can be involved?"
People with autism, Zalman Grossbaum says, excel in many skills: "Some are great with numbers. They would make great accountants. Others are very particular about details and would be excellent at managing quality control in a factory."
The Grossbaums are hoping that LifeTown's challah factory will become a model for other factories—proof positive that people with disabilities have valuable contributions to make in the workplace.
Like the factory, LifeTown's flower shop, laundromat and copy center will become training grounds where people with different abilities will develop the skills they need to find gainful employment in society.
"There's Magic at LifeTown"
The New Jersey Friendship Circle —now at LifeTown—has been changing lives for almost two decades. Ryan Warter was seven years old when he joined, ultimately preparing for his own bar mitzvah at FC. His younger brothers, Zachary and Jake, soon began participating at Friendship Circle, making fast friends with other kids there.
MayaBea Schechner of Short Hills was thirteen when she joined and befriended Allie Rosenfield, who had cerebral palsy. MayBea visited Allie every week for nearly a year. When Allie passed away, she delivered a moving eulogy about the power of her friend's smile.
Afterward, MayaBea continued to volunteer and eventually earned a degree in Child Development from Tufts University. Now, thirteen years later, MayaBea is a full-time employee of LifeTown. Her parents, Michael and June Schechner, sponsored the LifeTown reception desk, where June volunteers as a receptionist.
"There is magic going on at LifeTown," says June, who followed her daughter's lead and became a Friendship Circle volunteer many years ago. "It affects everyone."
Some 40,000 adults and children, both with and without disabilities, will spend time at LifeTown in the course of a year. Schools from throughout New Jersey and neighboring states will be visiting to gain awareness and real-life experience. What they take back to their communities will prove life-changing.
Evening the Playing Field
Ryan Warter passed away last May, just a few months shy of his eighteenth birthday. LifeTown's activity centers had yet to open. But Barbara and Ryan's younger brothers—who have learned to communicate in sign language because of Ryan—are deeply involved with LifeTown. They raise funds and represent LifeTown in their own schools, because "there's something very special about this place." Ultimately, says Barbara, LifeTown's success is about the people who lead it with love.
"Neither Zalman and Toba, nor most of the other Chabad leaders, are trained therapists. But they have created a place of complete acceptance. In LifeTown everyone is on the spectrum, and everyone is special."
Her kids don't go there to help the kids with special needs, Barbara says. "They go to play basketball. It really evens the playing field. In school, it's never like that, but in LifeTown, everyone can watch a movie—and if you can't, who cares? LifeTown normalizes differences." In fact, she says, "at LifeTown, they don't even look at differences. Ryan was Ryan."
At LifeTown's formal grand opening this fall, the football field will be dedicated to his honor and named Ryan's Field.
LIFETOWN BY THE NUMBERS
Site purchase price: $4 million in 2013
Size: 53,000 sq. ft. on five acres
Opened: Chanukah 2018
Anticipated yearly visitors: 40,000, including 4,000 volunteers
Autism in New Jersey: highest rate of diagnosis in the country, with one in 34 children in the state—including one in 26 boys—diagnosed by their 8th birthday, compared to one in 59 children nationally. (2018 report, Centers for Disease Control and Prevention)
Friendship Circle volunteers since inception: 7,000
Cost to build: $18 million
Individual donations: 2,500
This article was featured in Lubavitch International, Summer 2019. To order your copy, visit www.lubavitch.com/subscription