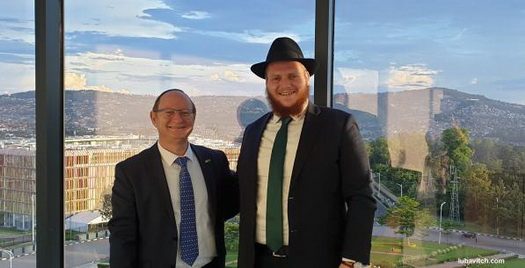 One of the fastest growing economies in Central Africa, and now one of the safest too, Rwanda has of late become a popular tourist destination. Chabad's opening in Kigali, the country's capital city, following the recent opening of the Israeli embassy there, makes it even more attractive to visiting Israelis, and Jewish travelers.
Rabbi Chaim and Dina Bar Sella hung out their shingle in June. "There are 150 Jews living in here, and of them we get about 50 participating in our weekly events," Chaim told Lubavitch.com.
With three direct flights a week from Tel Aviv, the Bar Sellas estimate there are at least 100 Israeli travelers a day visiting the country. Drawn to its beautiful landscapes, travelers come for its exclusive gorilla trekking opportunities. Rwanda is one of the only countries where it is possible to see mountain gorillas.
"Now that we are here and will be providing kosher food and Jewish services, we expect that many more kosher consumers will put Rwanda on their bucket list," Chaim told Lubavitch.com.
Rwanda is mostly remembered for the mass genocide of Tutsi, Twa, and moderate Hutu in Rwanda, in the summer of 1994 during the Rwandan Civil War. Although the scale and brutality of the massacred caused shock around the world, 25 years later, the country is widely regarded as one of the safest in Africa.
"Many of the Israelis who visit Rwanda are interested to learn about how the country is healing after such enormous suffering," says Chaim. "One can still sense the trauma in the air," observes Dina.
The Bar Sellas have settled in the residential Kibagabga area of town with their baby boy, Schneur Zalman.
Rabbi Shlomo Bentolila, head Chabad representative to Central Africa, recruited the young couple. "With the new opening of Chabad in Rwanda, many of the major tourist attractions in Africa are now served by Chabad."