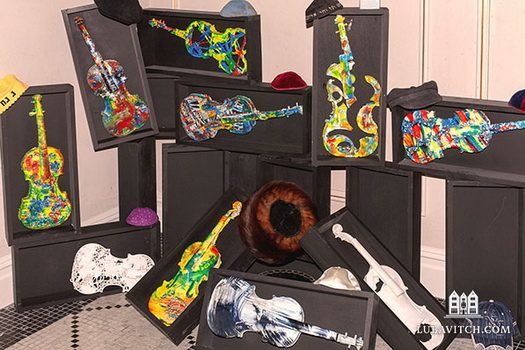 An exhibit on display at the Williamsburg Jewish Art and Music Festival, Williamsburg, Brooklyn, 2019
Williamsburg Hosts Inaugural Jewish Arts Festival
by Ashira Weiss – Lubavitch.com
When Rabbi Shmuly and Devorah Leah Lein arrived in Williamsburg, Brooklyn, in the early 2000s, the area's palindrome ZIP code, 11211 was the address of a thriving art scene. Galleries were crammed behind every second doorway, sidewalks and buildings were covered in street art and hopeful musicians busked, or played the myriads of dive bars. "I had a dream from that moment to create a Jewish event that would be a fusion of Judaism and art," Rabbi Shmuly says.
And though much of the artists' lofts–and with it the local art scene– have been replaced by swanky hotels and upscale waterfront highrises, the neighborhood's artistic soul remained. At the inaugural Williamsburg Jewish Art Festival held earlier this month, with local Jewish artists and musicians, Rabbi Shmuly's dream was finally realized. "It was an unplanned meeting that catapulted it from dream to reality," he says.
The Leins first came to the neighborhood to help Rabbi Kuty and Esti Feldman who had established a Chabad House in the area eighteen months earlier. The community had become very active in a short time and the Leins soon became an integral part of the Chabad of North Brooklyn team. They opened the Gan Chabad preschool which quickly grew as young parents saw the hip neighborhood as a more family-friendly alternative to Manhattan's franticness. Their programming grew to include events for children and families, as well as those for the thriving Young Professional and artist communities resident in the neighborhood.
The area of Williamsburg under Chabad of North Brooklyn's purview borders on, and sometimes overlaps with, the chasidic enclave in South Williamsburg. Chasidic Williamsburgers own properties in the northern area of the neighborhood and Chasidim often join the Chabad community for Shabbat services and events. (This makes for a somewhat uniquely diverse community, where fur-hat clad Chassidim who were born and educated in Williamsburg sway alongside transient Millenials who have little formal Jewish affiliation.)
A few months ago Rabbi Shmuly had a meeting with one of these chassidim. As the rabbi arrived at the appointed time, his friend was concluding a meeting with his business partner, Zalmen Glauber, also a Chassid. They got to talking and Zalmen mentioned that he was a sculptor and dreamed of opening a gallery in this part of town. By the end of the conversation the rabbi and the sculptor had resolved to combine their dreams and host an arts festival on the 13th of Tamuz, a holiday on the Chabad calendar.
When Toby Moskovits and Michael Lichtenstein, owners of the Williamsburg Hotel heard the plans, they were delighted to host. "I'm happy to have Chabad events at the hotel. I like that you bring people here to do mitzvahs," Toby told Rabbi Shmuly.
Around 300 people attended the event which showcased art in various mediums. They viewed Zalmen's sculptures along with the works of known artists who are part of the Chabad of North Brooklyn community: Joel Gluck, Valentina Loseva, Artem Mirolevich, Lev Schieber and Crown Heights-based Mendel Treitel. Some pieces evoked Jewish themes, like a brass sculpture of someone kissing a tefillin-wrapped arm, a black and white depiction of a pilgrimage to the holy temple in Jerusalem and various scenes from life events in the shtetl. In others the themes were more subtly influenced by the artists' Jewish identity. A mixed media piece featuring violins and an array of Jewish headgear was particularly apropos to this event whose presenters and visitors were a symphony of New York's Jewish communities.
Alon Nechushtan, a pianist and composer who first attended Chabad in 2003, provided musical entertainment with his Jazz-influenced take on various Chabad melodies, accompanied by his band. Jeremy Lublin lead singer of a Toledo, Ohio, Glam Rock band followed with a solo performance on guitar.
"The idea was to bring people together not for a Shabbat or a holiday, just for an enjoyable Jewish event," Rabbi Shmuly shared with Lubavitch.com. And the Jewish theme was apparent even the details of the event. Refreshments included traditional Jewish foods like cholent, gefilte fish, hamentashen and matzah ball soup. Local Kosher wine store, Soreiku provided wine and liquor.
One guest, now in her 30s and a mom of two remarked that she hadn't tasted cholent since her college days when she attended Chabad on campus.
Pintrill, an online pin fashion ship with a flagship store in Williamsburg designed custom pins that were distributed at the festival.
Children and adults decorated and tasted cookies shaped like various mitzvahs, courtesy of CustomCookies.com. Lev Schieber and Doreen Aisen, artists who met at Chabad and were married by Rabbi Shmuly, led an interactive art booth where guests used a spinning record player and markers to create spiralised designs on challa covers.
At a mitzvah stand guests donned tefillin and were given a dollar to deposit in a giant tzedakah box.
Rabbi Yisroel and Raizel Nissim of Chabad of Greenpoint joined the Feldmans and Leins in this endeavor. The two Chabads work alongside and collaborate with each other, creating cohesive communities that provide tailored programming to the distinct demographics that populate Williamsburg and Greenpoint.
"The festival gave kids and adults, singles and young families, no matter their background, or views, a chance to enjoy the fun and beauty of Judaism and to do a mitzvah too," says Devorah Leah. "We're looking forward to doing this again in the future."