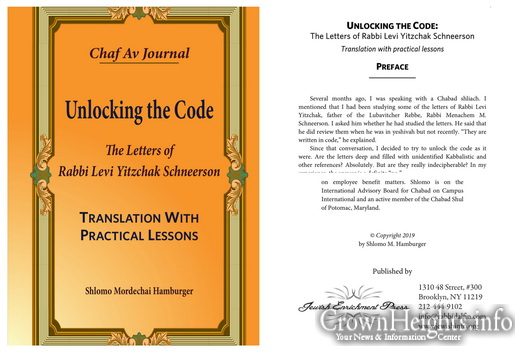 A new journal on Chof Av has recently been published. The journal was authored by Shlomo Mordechai Hamburger, a lawyer and a board member of Chabad on Campus International.
The new publication, made up of four parts, includes a history of Reb Levik's letter to the Rebbe, dated Erev Pesach, 1928, a synopsis of the letter, translation and commentary, and an essay.
The work was endorsed by Rabbi Mendel Bluming of Chabad of Potomac and Rabbi Chaim Dalfin, Chabad Historian and author.
It was reviewed for Kabbalistic accuracy by the great Torah scholar and author, Rabbi Yosef Yitzchak Keller.
It was published by Rabbi Dalfin's publishing company, the Jewish Enrichment Press (JEP), which specializes in helping people desiring to write their story or publish their scholarship.
To download go to www.theanochiproject.com
Letter from R Levi Yitzchak Erev Pesach (single sheets)