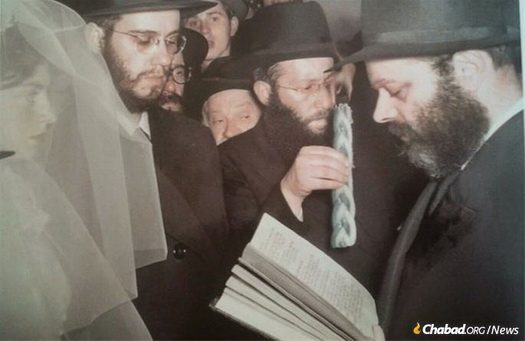 by Chabad.org Staff – chabad.org
Rabbi Sholom Menachem Mendel Simpson, a senior Chabad Chassid who served for many years as a member of the secretariat of the Rebbe—Rabbi Menachem M. Schneerson, of righteous memory—passed away on Aug. 1, his 90th birthday.
His father, Rabbi Eliyahu (Yaichel) Simpson, was a leading Chabad-Lubavitch rabbi in New York who had emigrated from Russia in 1923 and took up a rabbinic post in the Boro Park neighborhood of Brooklyn, N.Y. When the Sixth Rebbe—Rabbi Yosef Yitzchak Schneersohn, of righteous memory—came to New York in 1940 and opened a yeshivah, young Sholom Mendel was among the first students to join its elementary division.
As a yeshivah student, he was a pioneering participant in the Merkos Shlichus ("Roving Rabbis") program, traveling through Chicago, Milwaukee, Kansas City, Los Angeles, San Francisco, Seattle and Denver. In another trip, he was sent to Washington, D.C., and Norfolk, Va.
In 1952, Simpson married Rochel Telshevsky. The Rebbe officiated at their wedding and delivered a lengthy discourse at the reception. At the Rebbe's instruction, there was a mechitzah (a partition separating men and women) in the hall, which was not common at the time.
The young rabbi became active in assisting the Rebbe, as his father had done before him. His tasks included typing Hebrew and Yiddish correspondence based on dictation and notes the Rebbe would provide. Many of these letters were published in the multi-volume Igrot Kodesh, a project in which he was actively involved.
In the 1980s, as word processors and desktop computers were becoming popular, he suggested to the Rebbe that they be used to streamline the letter-sending process. The Rebbe insisted that they continue to use a typewriter, in order to ensure that proper effort and thought be invested into each letter.
He was the longtime rabbi of Ocean View Jewish Center and force behind the local mikvah in the Brighton Beach neighborhood of Brooklyn.
He was predeceased by his wife, Rochel Simpson, in 2015, and survived by their children: Rabbi Yossi Simpson, Rabbi Avrohom Simpson, Rabbi Ari Simpson, Rabbi Dovid Simpson, Faygie Wilschanski, Krainy Borenstein and Mashie Prager; in addition to his sisters, Kraine Rosenfeld and Esther Goldman, all of Brooklyn.