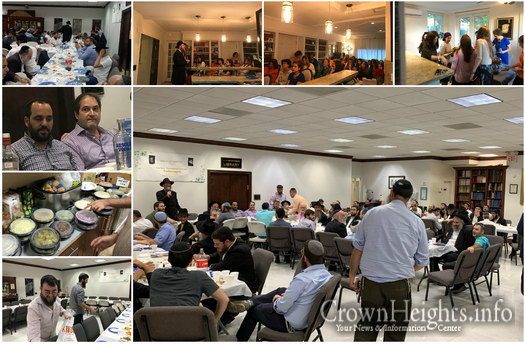 Rabbi Yossi Lew, Shliach in Peachtree Georgia, flew in to Florida to lead three Farbrengens in Hallandale Beach, Florida, for Yud Beis Tammuz.
His first Farbrengen was Monday evening for women at the home of Reb Yossy and Brocha Feiner. Over 50 women attended including the Mayor of Hallandale Beach, Mrs Joy Adams.
His second Farbrengen was Monday night at Congregation Levi Yitzchok-Lubavitch/Chabad of South Broward Headquarters. This Farbrengen, which featured live Chassidishe music, was attended by 150 people, including some 20 Shluchim, and lasted for five hours.
His third Farbrengen (the hat trick…) was Tuesday morning in Camp Gan Israel of South Broward. CGI of South Broward has over 450 campers this summer, and offers more scholarships than any other day camp in Broward County. Camp Gan Israel of South Broward is headed by Rabbi Mendy and Endi Tennenhaus. This year, a huge public school was rented (in addition to the Chabad facilities) to handle the large overflow of boys and girls. Rabbi Lew Farbrenged for 50 older campers.
All three Farbrengens were very inspiring, as Rabbi Lew warmly told personal stories of the Rebbe, to the delight of everyone in attendance.
Hallandale Beach, which in the 1980's and 1990's was made up of primarily senior citizens, including a huge segment of Holocaust Survivors, has become a recent haven for young couples who are moving to Hallandale Beach on a weekly basis.
Every mile in Southeast Broward there is a Chabad Shabbos Minyan, making it very convenient for the locals, and very enticing for the "not yet observant" to become Shomer Shabbos.
Major Celebrations are currently being planned as Chabad of South Broward is soon entering their 40th year.
The Yud Bais Tammuz Farbrengen at Congregation Levi Yitzchok-Lubavitch followed two inspiring Farbrengens Friday night and Shabbos day Gimmel Tammuz, led by Rabbi Chaim Drizin and attended by 250 people.
The Women's Yud Bais Tammuz Farbrengen was coordinated by Mrs Itty Feiner, hosted by Mrs Brocha Cohen, and included the delicious gourmet cakes of Mrs Zisi Kaufman.
The Men's Farbrengen was coordinated by Reb Meir Cohen, with the assistance of Reb Yossi Feiner and Reb Ephraim Kaufman, and Rabbi Moshe Schwartz and Rabbi Mordy Feiner.
Rabbi Raphael Tennenhaus, Chabad's executive Vice President, admits that the vast amount of young couples who have recently moved in to Hallandale Beach, are assisting Chabad of South Broward reach new heights as they soon enter their 40th year.
"We are blessed that the young men and women who have recently moved to Hallandale Beach are pre-occupied with Daavening with a Minyan, attending Shiurim and coordinating Farbrengens. They want to give the Rebbe Nachas, and it's very heartwarming", Rabbi Tennenhaus concluded.