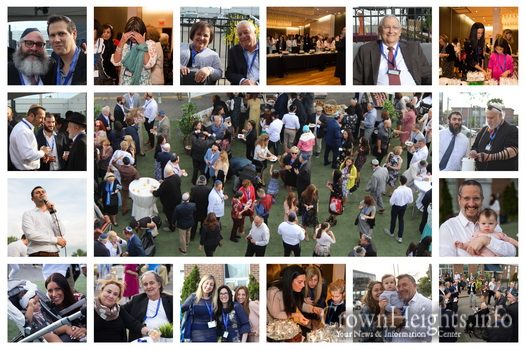 Just five days after the passage of Bill 21, a Quebec law banning certain public servants from wearing religious articles of clothing such as a Kippah, over 500 members of TMR's Jewish community gathered to discuss the new bill and to celebrate Shabbos together under the stars.
To accommodate the crowd, Chabad of the Town converted their 22,000 square foot parking lot into a giant park by laying grass over the asphalt. They also hoisted a massive tent in the back of the lot.
Only 60 years ago, Jews were not allowed to own homes in Town of Mount Royal. On Friday afternoon, a deejay blasted live Jewish music as hundreds entered to mingle, dance, and enjoy a pre-Shabbos barbecue with an open bar.
Women then ushered in Shabbos with a communal lighting of the Shabbos candles. A melodious Maariv service followed.
Following the service, a catered sit down three-course dinner was served on chinaware in the massive tent. After a beautiful Shalom Aleichem and Eishes Chayil, Shliach to TMR Rabbi Moshe Krasnanski led the community with the Kiddush.
The hot topic discussed at the meal was the new law banning Yamulkes and other religious clothing from judges, teachers, police officers, and prison guards.
"It was a tremendous display of unity and strength in the face of the new bill," said Rabbi Moshe Krasnanski, Founder and Spiritual Leader of Chabad of the Town. "It was a public demonstration that the Jewish community in Montreal and in TMR in particular is vibrant, active, and here to stay."
After Shabbos, participants praised the Mega Outdoor Shabbos. "It was the best Friday night of my life," gushed Silvana Smejoff.
"The tent was fabulous," said Helen Brotte. "It brings you back to when you were a kid and could play with your friends. People were joyful, the music was great, and the food was spectacular."
"It was the most fantastic evening," David Minsky said. "I brought a big group of ten people, and they had the best time. In fact, two of them were Holocaust survivors and they left almost in tears because it reminded them what Judaism used to be like at home and they had the greatest time."