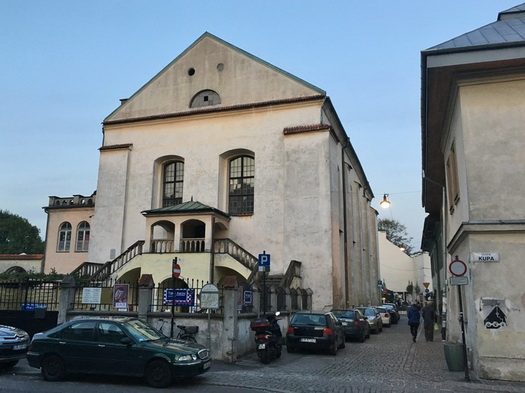 YeshivaWorldNews and CrownHeights.info
Chief Rabbi of Poland, Rabbi Mordechai Sedrick, has come out in support of Chabad Shliach Rav Mordechai Gurary in a machlokes surrounding a Shul in Krakow.
Rav Sedrick, a member of the Conference of European Rabbis and Chief Rabbi of Poland, has come out in support of Rabbi Mordechai Gurary regarding the Jewish Religious Community of Krakow, known as Gmina, ousting him and the mispallalim from the shul he was renting. According to Rabbi Gurary, he has a ten-year lease with an automatic renewal option, but community leaders decided to oust him by changing the locks of the Isaac Shul and bringing in local thugs to keep them out.
According to Times of Israel, worshipers at the synagogue claim that the rent had been hiked 1,000% despite the lease.
Rabbi Sedrick sent a letter to the head of the local Jewish community, Tadeusz Jakubowicz, asking him to refrain from ousting Rabbi Gurary and his tzibur from the shul.
"We have known each other for decades. We both know that the task of a Jewish community is to protect, enhance and deepen Jewish life. That is the essential responsibility of every Jewish community, its core value.
"We have a situation in Kraków in which the Gmina has become the heir of Jewish communal property and therefore is responsible and obligated to use these properties to enrich Jewish life and observance in Kraków and not to treat them as private properties, only concerned with maximizing profit.
"The Izaak Shul is the one place in Kraków with a steady daily minyan. The one place in Kraków where Jews can come every day to study Torah and Yiddishkeit. The activities of Rabbi Gurari and Rabbi Baumol are filled with Torah learning and Jewish values.
"Thanks to them and to many others, the Izaak Shul is fulfilling the responsibility of our Jewish community in Kraków. This should be supported and applauded.
"Instead, the electricity was cut off and then the water was cut off. And this morning, armed, masked guards were posted to prevent Jews from attending the morning minyan. No matter what the nature of the dispute is, I call upon the Gmina to fulfill the most elemental responsibility of every Jewish community —open the doors of the synagogue and allow Jews to pray to God.
"Please learn from this week's Parsha of Korach that we must always find a way to support each other and to never to work against each other."
The Conference of European Rabbis announced it is joining in, supporting the position of Rabbi Sedrick. The Conference calls on the community leaders to refrain from the "Chilul Hashem" and to "immediately open the doors and the shul to the rabbonim, Rav Baum and Rav Guraryeh, to permit them to continue their work and limud Torah.